Selim Franklin
Values Codes I-H-E-L-P
Selim Franklin was born in 1814, the son of Miriam and Lewis Franklin, a Liverpool banker and marble importer.
The Franklins had nine sons and two daughters, of whom at least three: Selim, Lumley, and Edward, as well as their cousins Benjamin, Maurice, and Lewis came to the Pacific coast.
San Francisco
After the discovery of gold in California, Selim boarded the St. George in April of 1849, the first ship to sail directly from London to San Francisco, and landed October 1849.
He opened a large store and helped to found their Chamber of Commerce.
Selim was successful until an 1851 fire ruined his business.
He became an auctioneer and real estate dealer, buying large holdings on Battery Street and Sacramento Street in San Francisco.
Selim Franklin was a founder of the San Francisco Chamber of Commerce.
Victoria
1858 gold discoveries lured Franklin to Victoria, where he established Selim Franklin &  Co., auctioneers and land agents on Yates Street.
He purchased numerous properties.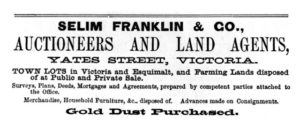 He was soon joined by his older brother, Lumley.
Civic
As the only qualified auctioneer of British citizenship in the two colonies, Selim was engaged by the government.
In 1859, Selin Franklin was appointed Foreman of the Grand Jury of the Colony.
In 1860, he was elected to the second Legislative Assembly of Vancouver Island; only the third Jew to be elected to a legislature in British North America.
However, the Oaths Bill had been passed in June of 1860, rendering impossible any question of a Jew having to take the oath as a Christian in the House of Commons.
He objected to the union of Vancouver Island and British Columbia, resigned his seat in the legislature, and returned to San Francisco in 1866.
San Francisco
Selin Franklin passed away in 1885.
We have no record of wife or children
Legacy
The Franklin River on Alberni Canal was named for Selim.
General Sources:
Pioneer Jews of British Columbia, Cyril Leonoff, editor, Western States Jewish History, Vol. 37, Issue 3/4
Lured North of the 49th, Jewish Colonial Roots, by Sarah H. Tobe, Western States Jewish History, Vol. 46, Issue 2/3
Archives of Sarah H. Tobe, Cyril E. Leonoff, Christopher J.P. Hanna, and David Rome.

 
Sarah H. Tobe is Curator of this Henry Nathan Jr. Exhibit.
Any additional information or photos would be appreciated.
More people will see this Exhibit if you "like" it and "Share" it on your Facebook Page.