William David Gross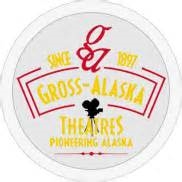 Values Codes I – E – L
William David Gross was born in 1879 in Russia. *
Along the way
With his parents, William Gross traveled as a child to America, where they settled in Seattle, Washington.
Alaska
Before 1896, William Gross moved to Dyea, Alaska, where he opened a clothing store.
In the same year, when the Klondike Gold Rush began, William Gross closed this store and reopened it in Dawson, Yukon Territory.
In 1899, Gross traveled to Seattle to purchase supplies.
While there, he saw some early motion pictures, which inspired him to purchase a projector and four reels of film.
Upon returning to Dawson, Gross created the first "movie theater," – charging $1 admission to watch a 15-20 minute show, which he screened three times a night.
In 1904, William Gross sold this business to go to the Louisiana Purchase Exposition in St. Louis.
On the return trip, Gross stopped briefly in Dawson before continuing on to Fairbanks.
From 1904-1910, William Gross ran a clothing store/movie theater in Fairbanks, Alaska.
In 1910, Gross sold the business and traveled to Reno, Nevada for the Jeffries-Johnson heavyweight championship.
Upon his return to the North, Gross settled in Nome, Alaska, where he organized his motion picture shows until 1911.
In 1911, William Gross built the first movie theater –  the Coliseum Theater – in Ketchikan, Alaska.
Then, he expanded this theater into a chain of theaters in Wrangell, Juneau, Petersburg, Skagway, Haines, Douglas and Sitka.
The Ketchikan theater was home to the largest pipe organ in Alaska.
Family
William Gross married Hansine Campen (1880-1967) in 1909 in Fairbanks, Alaska.
They adopted five children.
Legacy
Gross' son, Zalmain, succeeded his father in the theater business.
Grandson, William David II, and Great-Granddaughter, Dorain, continued this legacy of family-owned theaters, now known as Gross-Alaska.
William Gross died in 1962 in Seattle.
He is buried in the Evergreen Washell Memorial Park in Seattle.
Note: * Birthdate discrepancy: William David Gross sometimes is listed as born in 1879, while other times it says he was born in 1865.
Sources
Eisenberg, Matthew J. "The Last Frontier: Jewish Pioneers in Alaska-Part II." Western States Jewish History; 24(2).
Pardes, Joan.  "Showtime in SE Alaska." Juneau Empire. December 20, 2002. http://juneauempire.com/stories/122002/nei_grossak.shtml
Samantha Siver is Curator of this William David Gross Exhibit.
Feel free to "like" or "share" this exhibit on your Facebook page. It helps us grow.