by Donald H. Harrison

MELBOURNE, Australia – On his tombstone, the inscription says simply:
"To the memory of John Monash.

Born June 27th1865.  Died October 8th 1931.

Mourned in love and pride."
This sparse inscription was his family's answer to the charge that all Monash was interested in was self-aggrandizement.
For the next 80 years, anyone unfamiliar with his record of accomplishment might have passed with little notice his tombstone in the Jewish section of the crowded Brighton General Cemetery in Melbourne's southeastern suburb of Glen Eira.
However, on October 8th 2011, an organization called

The Spirit of Australia Foundation

changed matters.
Upon his grave, the foundation erected a large plaque telling some of the highlights of Monash's biography.  It reads:
Here lies General Sir John Monash GCMG KCB VD
27 June 1865-8 October 1931, Scholar, Engineer, Soldier, and Nation Builder
University of Melbourne
1891 Bachelor of Civil Engineering, 1893 Master of Civil Engineering
1921 Doctor of Engineering,1923-31 Vice Chancellor of the University
In World War I he served in Egypt, Gallipoli, and France, Commanded the Australian Army in France from 1st June 1918, Knighted on the field of battle 12th August 1918 by King George V, Decorated by Australia, Britain, France, Belgium & USA, Directed Australians' Repatriation and Demobilization 1918-19
Chairman Victorian State Electricity Commission 1921-31 & Innovative Civil Engineer and Legal Advocate
President Victorian Institute of Engineers, President Australian Association for the Advancement of Science, Chairman Anzac Day Commemoration Council, President The Rotary Club of Melbourne, President The Naval & Military Club Melbourne
Even with all that engraving, the plaque only hints at the man who was considered by many as Australia's greatest general, and who, even today, is a figure of some controversy.
Later this year, on November 11th, will come the 100th anniversary of the signing of the armistice that ended World War I—a war that some military historians credit Monash with helping to bring to an end. 
Tim Fischer, a former deputy prime minister of Australia, has been leading a thus far unsuccessful campaign to have Monash promoted posthumously from General to Field Marshal, the highest rank of the Australian Army. 
Many people scoff at such an idea, but Fischer has been persistent, even publishing a book, Maestro John Monash: Australia's Greatest Citizen General, to help popularize his cause. 
High ranking government opponents have responded that to promote Monash posthumously could open the floodgates to an endless stream of requests from families of lower ranked military.
Gary and Evelyn Fabian
Nancy and I were escorted to Monash's grave by Garry Fabian, who as a child along with his parents had survived the Holocaust and had immigrated to Australia following World War II.
Fabian, over the years, has contributed occasional columns to San Diego Jewish World, and is well regarded in the Australian Jewish community as the former B'nai B'rith governor for the State of Victoria.
Later on the day of our visit, Fabian and his wife, Evelyn, who had been born to Holocaust survivors after their arrival in Australia, took us to Melbourne's Shrine of Remembrance, where Monash also is memorialized.
Had our Holland-America cruise ship, MS Maasdam, scheduled for passengers a longer time in port than from 8 a.m. to 4:30 p.m., we might also have visited other metropolitan Melbourne venues where the Jewish general is remembered by his fellow Australians, including, but not limited to Monash University, the suburb of Monash, Monash Medical Center, Monash Freeway, John Monash Science School, and Sir Monash Drive in Caulfield East. 
Sydney also has named several places in his memory, and there are also locales named for Monash in the Australian Capital Territory, South Australia, and even in Israel.
A capital honor is the fact that his face is not only on Australia's $100 bill but also on a new $5 coin.
Decoding the abbreviations on Monash's tombstone, I learned that GCMG stands for Knight Grand Cross of the order of St. Michael [The Archangel] and St. George [patron saint of England]. 
KCB refers to Knight Commander of the Order of the Bath, a knighthood to which Monash was appointed by Britain's King George V in a ceremony in France occurring four days following the onset of the Battle of Amiens.
VD stands for Volunteer Officers Decoration, important in Monash's story because he was not a member of the regular Army but was instead a volunteer who rose to the highest ranks, creating envy and jealousy among some members of the regular Army corps.
Monash climbed the ranks of the military even while he was pursuing a civilian career as an engineer, which included work on such projects as the Yarra Bridge on the Yarra River, which cuts through downtown Melbourne; the Outer Circle eastern suburban railway line; creation of a practice artillery gun for the North Melbourne Battery of the Metropolitan Brigade of the Garrison Military; an aerial tramway in Walhalla; and various bridges and buildings. 
He lectured in engineering at the University of Victoria  and, in 1913, served as president of the Victorian Institute of Engineers.
By the time World War I erupted in 1914, Monash was a colonel commanding Australia's 13th Infantry Brigade, which departed for Egypt in a convoy of 17 ships. 
In 1915, his brigade, which had been held in reserve, participated in the disastrous Gallipoli campaign in Turkey, during which British forces sought unsuccessfully to dislodge Turkish forces from the narrow sea channel connecting the Aegean Sea to the Black Sea via the Dardanelles and the Bosporus. 
One point on the Gallipoli peninsula is called Sari Bair, and Monash's troops, relying on faulty maps, attacked at the wrong spot, where Turks had a commanding advantage. 
According to the Australian Dictionary of Biography, Monash's troops could do little but to dig in, and eventually withdraw, a stain on his career that would not be erased until his triumphs in France against the Germans.
Although the Gallipoli campaign was a military failure for the Australians and New Zealanders who fought alongside the British, an annual ceremony on April 25  to remember the sacrifice and the courage of the soldiers who fought in that campaign evolved into ANZAC day, an acronym for a day of tribute to the Australia New Zealand Army Corps. 
According to author Tim Fischer, Monash on April 25, 1916, was with his troops in Egypt where he "devised and conducted the first in-the-field ANZAC Day service near the Suez Canal." 
Because it was a hot day in northeastern Africa, after the service and parade, Fischer related, "The Anzacs were allowed to head off for a deserved swim in the Suez Canal."
When he arrived in France, Monash learned he had been promoted to brigadier general, a promotion that was followed in quick order to major general and lieutenant general. 
In the Battle of Hamel [France], Monash departed from what some considered the usual British practice of using colonial troops as cannon fodder, and planned a surprise attack  July 4, 1918, on the German-held French town, in which tanks, artillery, airplanes, and infantry were thrown into the battle in a meticulous and coordinated attack that historians have attributed to Monash's engineering background.
Endearing Monash to the infantry troops was that instead of having them up front, and exposed to enemy fire, they advanced behind the tanks.
Our friends, Garry and Evelyn Fabian kvelled that while Monash had predicted the Battle of Hamel would be won in 90 minutes, "He was wrong—it took 93 minutes." 
Why do I say they kvelled?  His daughter Vicki Lustig's father-in-law was Monash's third cousin, making Monash, one supposes, almost kin to the Fabian family as well.
Hamel was a dress rehearsal for the larger Battle of Amiens, which Monash, then "Sir John" thanks to King George V, was instrumental in planning. 
When the battle started, on August 8, 1918, as reported in Wikipedia (accessed April 1, 2018), "The headquarters of the British Fourth Army under General Sir Henry Rawlinson had taken over the front astride the Somme.
Its left hand corps was the British III Corps under Lieutenant General Richard Butler, while the Australian Corps under Lieutenant General John Monash held the right flank and linked up with French armies to the south."
The Germans retreated in the face of the large-scale coordinated attack, prompting German General Erich Ludendorff to describe the August 8, 1918, battle as the "black day for the German Army." 
Only three months and three days later, the Germans would sign the Armistice Agreement ending the war.
Following the cessation of hostilities, Monash was put in charge of demobilizing and repatriating some 160,000 Australian soldiers—itself an engineering feat which he accomplished with characteristic attention to detail. 
His own triumphant return to Australia soon turned to sorrow when his wife, who had been suffering with cancer, died on February 20, 1920.
Shrine of Remembrance in Melbourne, Australia
At the Shrine of Remembrance in Melbourne, where Garry Fabian serves as a docent, Armistice Day is remembered in unique fashion. 
A small hole in the dome of the rotunda allows sunlight on November 11th to play across a memorial stone which declares "Greater Love Hath No Man." 
At precisely 11 a.m., the time the Armistice went into effect, the light illuminates the word "Love."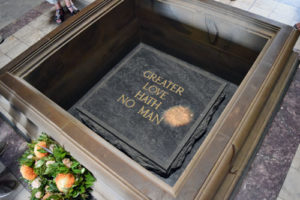 This ceremony, which includes the playing of "The Last Post" is recreated electronically on other days, as visitors observe a strict and solemn silence.
Father and Son Memorial in the Shrine of Remembrance
Monash, the engineer, was intimately involved in the planning of the Shrine, which today features a labyrinth of halls devoted to the exploits of various units in which citizens of Melbourne served. 
Today, there are also statues of soldiers of World War I and World War II, father and son. 
Outside the Shrine building, there an eternal flame burns.  
Monash did not live to see the Shrine opened on Armistice Day, 1934, having died three years previously at the age of 66.
During the years between his homecoming and his death, Monash served as the general manager of the State Electricity Commission of Victoria, charged with the responsibility of utilizing the coalfields of Gippsland, which stretches from the eastern suburbs of Melbourne to Victoria's border with New South Wales.
He also was a spokesman for Australia's veterans and the leader of various Anzac parades.
When Monash died from coronary vascular disease, his funeral procession reportedly was witnessed by a quarter million people.
The Fabians said in their estimate Monash was a remarkable man, having overcome in his military career, what might have been three insurmountable obstacles for less capable men:  "He was a Colonial; he was a citizen soldier; and he was Jewish."
---
Back to Table Of Contents, Western States Jewish History, Vol 51, Issue #1
*