Marcus Lissner
Values Codes I-E-L
Marcus Lissner was born in 1834 in Prussia.
In 1851, Marcus Lissner came to America where he joined his older brother in Georgia.
Along the way . . . .
In the 1860s, Marcus Lissner decided to leave the South because of the impending Civil War.
He headed West to California by way of Panama.
Marcus Lissner  worked as a miner in California and Nevada.
Then, in 1864, he settled in Alder Gulch, Montana Territory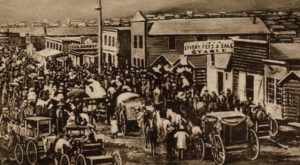 Adler Gulch, Montana, 1860's
Helena, Montana
With the gold that he mined in Alder Gulch, Marcus Lissner moved to Helena, Montana where he built the International Hotel, located at State and Main Streets.
Marcus Lissner entered into a brief partnership with Max Sklower, who went on to own other hotels.
The International Hotel caught fire and was rebuilt in 1869, 1873 and 1874. It was nicknamed the "Phoenix" for continually rising from the ashes.
In addition to the hotel, Marcus Lissner founded the Lissner Bottling Works, that bottled and delivered water from a spring located on their property.
Civic
Marcus Lissner served as Alderman of Helena's First Ward for 18 years.
Family
In 1875, Marcus Lissner married Jennie Sabolsky (1859-1918), daughter of dry goods merchant, Wolf Sabolsky.
They had nine children, including James, Yetta (1878-1975) and Bernice (1897-1987).
The Lissners lived at 315 East State.
Their son, James Lissner, ran the liquor store at the International Hotel.
Later, he served one term in the Montana State Legislature representing Lewis and Clark County.
Marcus Lissner died in 1902.
Jennie Sabolsky died in 1918.
Marcus Lissner  is buried beside his wife, Jennie, in the Home of Peace Cemetery in Helena, Montana.
Sources
Samantha Silver is our Curator for this Marcus Lissner Exhibit.
We need pictures and more information to fill out this exhibit.