Napa Valley Exhibition Hall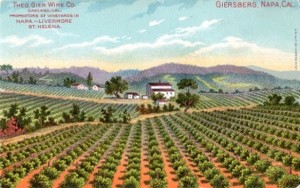 Napa Valley  is one of the original designated counties of the new State of California in 1850.
Close to the Gold Country, most successful prospecting in the Napa Valley brought forth silver, starting in 1858.
1859 witnessed the first commercial winery in the valley with "perfect weather" for the grape.
Jewish Pioneers were part of the early development of this beautiful area of California.
Exhibits in this hall cover Napa, Sonoma, St. Helena, and Calistoga.
Most of the exhibits were prepared with the help of the Jewish Historical Society of Napa Valley.
The Frank Family: Early Jewish Pioneers of Calistoga
Simon & Rebecca Galewsky Family: Early Pioneers of St. Helena
Henry Getleson and Abraham Friedberg: Early Pioneers of Calistoga
Abraham & Cecilia Goodman: Jewish Merchants of St. Helena
David L. Haas: Early Pioneer of Napa
Leopold Lazarus: Jewish Pioneer of St. Helena
Freedman & Dora Levinson: Early Pioneers of Napa
Emanuel Manasse: Pioneer Tanner of Napa
Friederich "Fritz" Rosenbaum: Johannaberg Cellars of St. Helena
Solomon Schocken: Pioneer Jewish Merchant of Sonoma
Joseph Schwartz: Owner of the City of Paris in Napa
Herman and Elizabeth Shwarz: Early Pioneers of Napa