Congregation Emanu-El of San Francisco sold seats in the synagogue as early as 1866.
The seats were handled like real estate and registered with the County of San Francisco – complete with a United States Internal Revenue tax stamp.
Congregation Emanu-El collected fees in gold coin!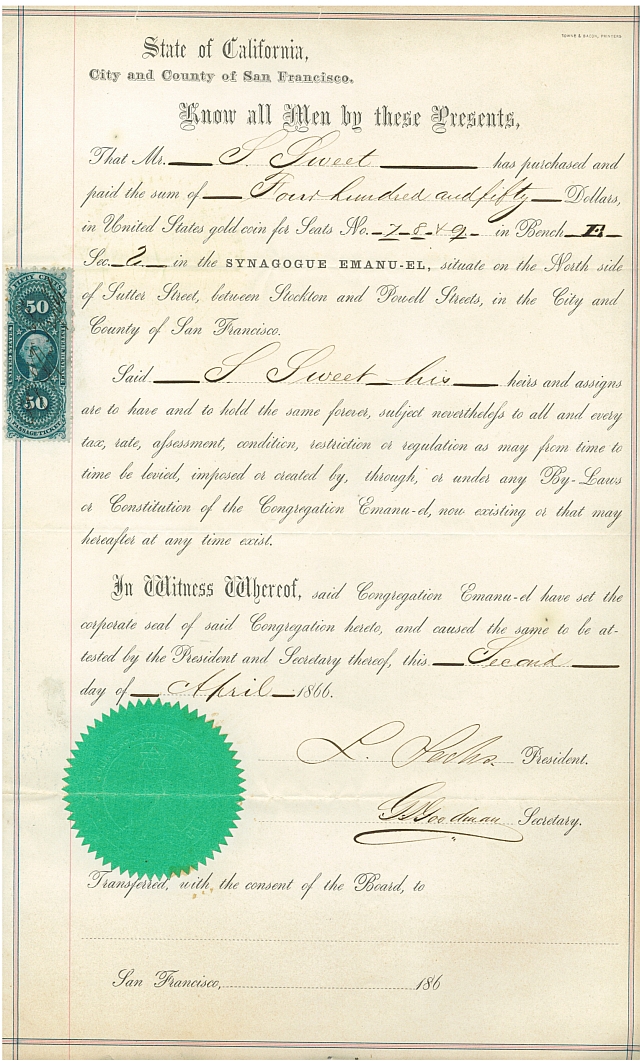 Seat deed, Congregation Emanu-El, San Francisco, 1866, WSJH Archives
State of California
City and County of San Francisco
Know all Men by these Presents
That Mr. S. Sweet has purchased and paid the sum of four hundred and fifty Dollars in United States gold coin for seats 7, 8 & 9, Bench E, Section 2 in the SYNAGOGUE EMANU-EL, situated on the North Side of Sutter Street, between Stockton and Powell Streets, in the City and County of San Francisco.
Said L. Sweet, his heirs and assigns are to have and to hold the same forever, subject nevertheless to all and every tax, rate, assessment, condition, restriction or regulation as may from time to time be levied, imposed or created by, through, or under any By-Laws or Constitution of the Congregation Emanu-El, now existing or that may hereafter as any time exist.
In Witness Whereof, said Congregation Emanu-El have set the corporate seal of said Congregation hereto, and caused the same to be attested by the President and Secretary thereof, this Second day of April, 1866.
Lewis Sachs, President
Goodman, Secretrary
Thanks to Ann Sinatra of Pennsylvania for researching the signature.