Announcements & Information
New Books from Western States Jewish History Association!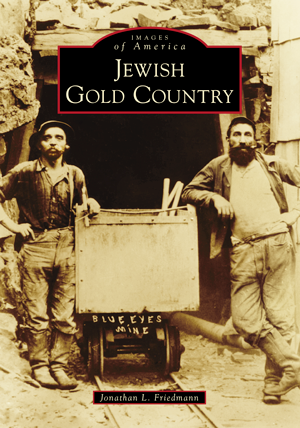 Jewish Gold Country
Jonathan L. Friedmann
Arcadia Publishing (2020)
Purchase the book HERE.
The discovery of gold at Sutter's Mill in Coloma on January 24, 1848, initiated one of the largest migrations in US history. Between 1849 and 1855, hundreds of thousands of migrants arrived in Northern California hoping to find gold in the foothills of the Sierra Nevada. The rapid population growth and economic prosperity led to boomtowns, banks, and railroads, making California eligible for statehood in 1850. An international cast of gold-seekers, merchants, and tradespeople arrived by land and through the port of San Francisco, which was transformed from a small village to a cosmopolitan metropolis. Jewish pioneers, many of whom had been merchants in Europe, opened stores and businesses in small towns and mining camps in and around the Mother Lode. They established benevolent societies and cemeteries, founded synagogues and companies, held public office and positions of influence, and contributed greatly to the multicultural fabric of the Gold Country.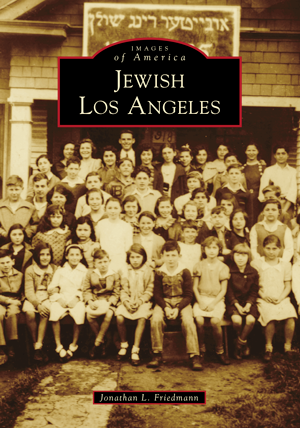 Jewish Los Angeles
Jonathan L. Friedmann
Arcadia Publishing (2020)
Purchase the book HERE.
The first known Jewish resident of the Mexican Pueblo de Los Ángeles arrived in 1841. When California entered the Union in 1850, the census listed just eight Jews living in Los Angeles. By 1855, the fledgling city had a Hebrew Benevolent Society and a Jewish cemetery. The first Jewish congregation and kosher market were established in 1862. Meanwhile, Jewish merchants and business owners founded banks, fraternal orders, charities, athletic clubs, and social service organizations. Jewish property owners developed vast areas of Los Angeles and beyond into the neighborhoods and cities we know today. By 1897, the city's Jewish population was large enough to support its own newspaper. The 20th century brought waves of Jewish immigrants and migrants to Los Angeles, where they built the motion picture and television industries, Cedars-Sinai and City of Hope medical centers, the Jewish Home for the Aging, urban and suburban synagogues and Jewish centers, and other institutions. The foundations laid by these enterprising pioneers helped transform Los Angeles into a major metropolis.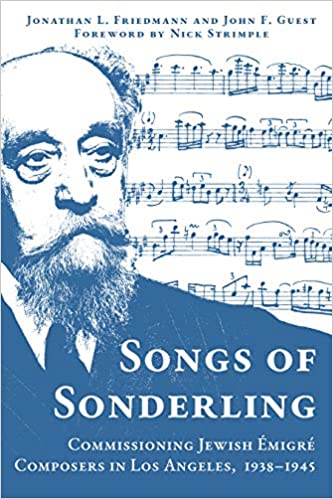 Songs of Sonderling: Commissioning Jewish Émigré Composers in Los Angeles, 1938–1945
Jonathan L. Friedmann and John F. Guest
Texas Tech University Press (2020)
Purchase the book HERE.
Songs of Sonderling is the story of Jacob Sonderling's unique contributions to Jewish liturgical music. Rabbi Sonderling was many things: a descendant of Chassidic rebbes, a rationalist, a Reform rabbi, a Zionist, an army chaplain, a celebrated orator, an artistic soul. From his early career at the Hamburg Temple and German Army service in World War I, to his wandering years in the Eastern United States and founding of the Society for Jewish Culture–Fairfax Temple in Los Angeles, Sonderling cultivated a unique aesthetic vision of Judaism, a "five-sense appeal."
Jonathan L. Friedmann and John F. Guest document and analyze Sonderling's experience and expression of Judaism through music. Rabbi Sonderling's vision yielded liturgical commissions from exiled Viennese Jewish composers who arrived in Los Angeles in the 1930s and 1940s. Through these musical settings, activities at the Fairfax Temple, and involvement with the Los Angeles campus of the Hebrew Union College–Jewish Institute of Religion, Sonderling made an indelible mark on the city's Jewish community and the wider musical world.
Songs of Sonderling focuses on the commissions Sonderling made from 1938 to 1945: Ernst Toch's Cantata of the Bitter Herbs, Arnold Schoenberg's Kol Nidre, Erich Wolfgang Korngold's A Passover Psalm and Prayer, and Eric Zeisl's Requiem Ebraico. Through musical analyses and an examination of Sonderling's career in Los Angeles, Friedmann and Guest contribute to the study of Jewish liturgical music, to Jewish history in the American West, to Jewish identity in the twentieth century, and to Jewish diaspora writ large.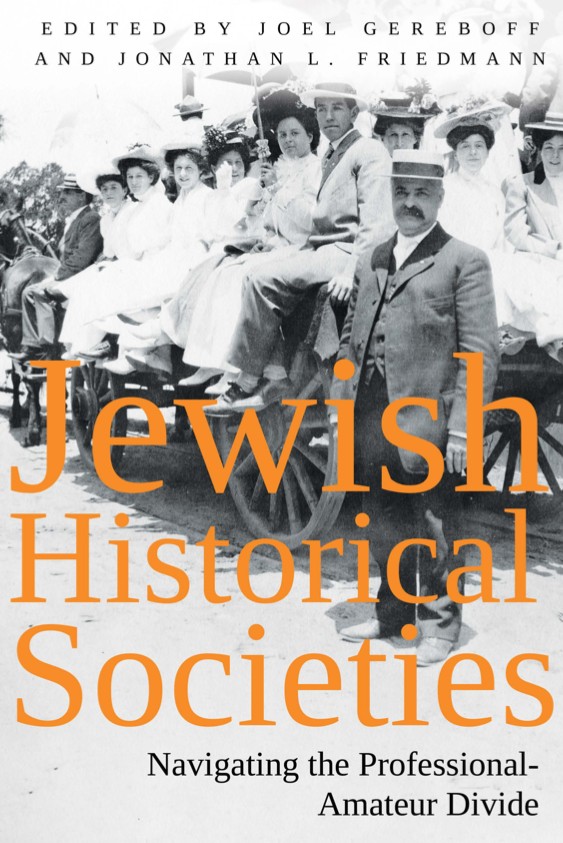 Jewish Historical Societies: Navigating the Professional-Amateur Divide
Edited by Joel Gereboff and Jonathan L. Friedmann
Texas Tech University Press (2023)
Purchase the book HERE.
Since the early 1950s, local and regional historical societies have been an important part of the American Jewish landscape, providing community outreach, housing archives, fostering research, and publishing historical studies. This book charts the development, undertakings, successes, shortcomings, and possible future of local and regional Jewish historical societies in the United States.
The lead chapter, by Joel Gereboff, explores the challenges of constructing and presenting Jewish history and what disparities exist between amateur historians and professionals in regards to standards, tools, methods, analysis, and contextualization. Following an overview of key players, major themes, representative organizations, and recurring critiques, the chapter proposes ways to address the essential question: Can Jewish history on the local and regional levels be more inclusive, better integrated with broader trends of Jewish and general history, and improved according to scholarly norms and expectations of social history?
Following this are six chapters by leaders of local and regional Jewish historical societies: George M. Goodwin of the Rhode Island Jewish Historical Association; Jonathan L. Friedmann of the Western States Jewish History Association; Mark K. Bauman of the Southern Jewish Historical Society; Catherine Cangany of the Jewish Historical Society of Michigan; Jeanne Abrams of the Rocky Mountain Jewish Historical Society; and Lawrence Bell of the Arizona Jewish Historical Society. The selected societies cover major regions of the country—New England, Midwest, South, Southwest, and West—and, as such, are representative of the broader phenomenon of American Jewish historical societies. These chapters are followed by a chronologically arranged appendix listing American Jewish historical societies, their mission statements, and their publications.
Historical grounding is imperative for an understanding of community and self. Equally essential is the type of information that makes up that history, as well as how that information is recounted and interpreted. No individual or community exists in isolation; human history is complex, multilayered, and interwoven. While all history may be local, it does not exist in a vacuum—this volume illuminates that concept and situates it within the Jewish historical landscape. 
Journal Relaunch, Fall 2020: Western States Jewish History
NOW ACCEPTING SUBMISSIONS
Visit Texas Tech University Press website or contact us at JMAWcurator@gmail.com.

Questions often asked of us . . . .
How can I get an Exhibit for my Western Pioneer Jewish Ancestors?
How do I get a Historical Exhibit for my  Synagogue in the Museum?
How do I get a Historical Exhibit for my Jewish Service Organization?