The Durkheimers
Values Codes I-E-L-P
Kaufman Durkheimer
Kaufman Durkheimer was born in Baden, Germany in  1824.
Durkheimer left Germany in 1824 to escape poverty and the draft.
He settled in Philadelphia.
In 1855 married Caroline Steinheiser.
Along the way . . .
In 1862, drawn by word of a Gold Rush,  the Durkheimers and their four children came by ship around the Horn.
Subsequently they had three more children.
Portland, Oregon
Kaufman and Caroline Durkheimer arrived in Portland, Oregon.
They opened a second-hand furniture store and all the children went to work at an early age.
Kaufman Durkheimer was active in a variety of businesses.
He ran a cigar, tobacco and fruit stand and worked as an insurance agent.
Family
Kaufman Durkheimer married Caroline Steinheiser in 1855.
Together they had seven children.
Four of the boys were: Julius, Moses, Sam, and Sigmund.
Kaufman Durkheimer died in 1906.
==================================
Julius Durkheimer
Julius Durkheimer,  son of Kaufman and Caroline Durkenheimer, was born in 1857
He drove a horse-drawn express wagon after school each day in Portland, Oregon.
In 1878, he and two partners opened the firm of Kaufman, Haas and Durkheimer, forwarding and commission merchants.
Julius Durkheimer subsequently opened The Red Front Store dealing in cattle, sheep and grain; and another store in Prairie City.
In 1887, Julius Durkheimer opened another store in Canyon City.
This store prospered and Julius sent for his three brothers to help.
Moses Durkheimer, born in 1856, and Sam Durkheimer, born in1860, were placed in charge of the Prairie City store.
Sigmund, born in 1867, went to Canyon City to work with Julius.
Eventually Julius Durkheimer opened yet another store in Burns, Oregon.
Civic
Julius Durkheimer served on the Burns School Board, in the Burns Volunteer Fire Department, and donated uniforms to the local band.
Julius Durkheimer was elected Mayor of Burns, Oregon in 1895.
Julius and Delia Durkheimer moved to Portland in 1896.
Julius purchased an interest in Wadhams & Company, a wholesale grocery concern.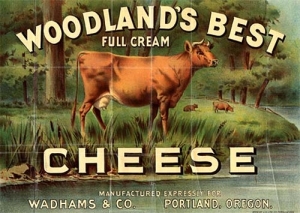 The Durkheimer family was associated with this firm for four generations, from 1896 to 1978.
Under the presidency of Sylvan Durkheimer, Waldhams & Company became the Northwest Distributor of Olympia Beer.
Sylvan Durkheimer died in 1984.
Family
Julius Durkheimer married Delia Fried.
They had one son: Sylvan.
In 1899, Julius and Delia Durkheimer built a home in Portland that has been preserved as an Architectural Heritage Home.
Gladys Sturman is our Curator for this Durkheimer Virtual Exhibit.
We need family pictures, if anyone has them, for this Exhibit.
Thanks to Rebecca Esau for correcting some family information.