Isidore Karsky & Samuel Karsky
Values Codes  I – E – L – P
Isidore Karsky (1830-1867) and Hannah Abrahm Karsky (1831-1897), came to the United States in 1857 from Prussia, settling in California.
Isidore Karsky, was the proprietor of I. Karsky & Co. in San Francisco.
Weaverville, California
In 1866, Isidore Karsky entered into a partnership with M. Karsky and I. Abraham.
Together they founded a mercantile firm called Karsky & Abraham, in Weaverville, California, the County Seat of Trinity County in the Gold Country.
Family
Isidore and Hannah Karsky had six children: Samuel, Morris, Miriam (1857-1929), Theresa, Sarah and Victor (1861-1886).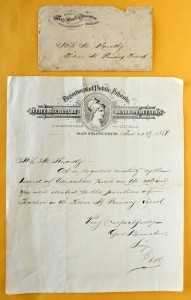 Miriam was employed by the Rincon Grammar School, a frail wooden building containing small and poorly arranged classrooms. There were 993 boys and girls in attendance at that time, indicating a large town population at that time.
Letter above reads:
Feb. 21st, 1877
Miss) M. Karsky:
 At a regular meeting of the Board of Education held on the 20th ?????, you were elected to the position of Teacher in the Silver St. Primary School.
Very respectfully,
George Beanston, Sec'y
Isidore Karsky died suddenly, in Weaverville, in 1867.
* * * * *
Samuel Karsky
Samuel Karsky was born in 1862 in San Francisco, California.
Around 1876, Samuel Karsky graduated from South Cosmopolitan Grammar School in San Francisco.
He was confirmed at Temple Emanu-El Synagogue.
In 1879, the Weaverville firm was renamed "I. Abraham Dry Goods & Clothing."
Around 1882, Samuel Karsky joined the Weaverville mercantile firm.
In 1883, the firm was renamed, again, "Abraham & Karsky."
Fraternal
Samuel Karsky was a member of Mount Bally Parlor, Native Sons of the Golden West and Chosen Friends.
Family
Samuel Karsky married Beckie. 
They had two children: Irving L. (1900-1989) and Walter S. (b.1910?).
Samuel Karsky died in 1927 in San Francisco, California.
He is buried in the Hills of Eternity Cemetery in Colma, California.
For more information see the following articles in Western States Jewish History:
"Karsky of Weaverville,"  Western States Jewish History, vol.15, #2.
Samantha Silver is our curator for this  Karsky Family Exhibit.
Thanks to Ken Katz for the photo of the letter to Miriam
Any family pictures would be appreciated.