Jacob Frankfort
Values I – E – L – P
The first known Jewish pioneer in Los Angeles was Jacob Frankfort, who arrived in 1841 as part of the Rowland-Workman Exploratory Party, traveling West from Sante Fe, New Mexico.
He was born in Germany either in 1801, based on a Mexican census (1844), or 1810, based on the first United States Census of California (1850, taken in January 1851).
Jacob Frankfort was a tailor and owned a rifle, rather than a musket.
These made him an important person in the exploratory party as clothing wore out rapidly and food had to be found along the way.
He also had some means. He was listed as being owed $400 in a declaration of bankruptcy by Rafael Gallardo, filed with the alcalde (mayor) of Los Angeles in 1845.
He acted as an appraiser during 1846.
When a Peruvian brigantine, Ascension, was beached in San Pedro Harbor, Jacob Frankfort was appointed its appraiser, indicating his high level of education.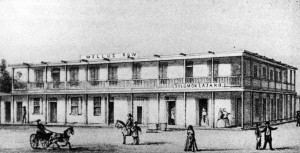 Jacob Frankfort opened his tailor business and men's clothing store on the corner shop of an adobe building called Bell's Row, close to the plaza. It was later known as Mellus Row, at the southeast corner Aliso and Los Angeles Streets.
Bell's Row/Mellus Row was considered the "best" location for business in Los Angeles, as all traffic crossing the L.A. River from the East came up the hill to the corner of Aliso & Los Angeles Streets where Bell's Row was conveniently situated.
It was Jacob Frankfurt who lent the money to Henry Mellus to purchase Bell's Row from Captain Alexander Bell, indicating that Jacob Frankfurt was doing quite well in his own business.
Unfortunately, we have no photograph of Jacob Frankfurt.
The 1850 Census and the First Eight Los Angeles Jews
The 185o Census shows that the other seven Jews in town all had their own stores located in the same six-unit building, some as partners and the others as individuals.
All slept in rooms at the back of their respective stores.
In addition to Frankfort, the original pioneer Jewish businessmen were: Morris (Moritz) Michael, Arnold Jacobi, August Wasserman, Felix Pachman, Phillip Sichel, Joseph Plumer, and Morris L. Goodman.
Other early Jewish pioneers who had businesses at this location during the 1850's and 1860's were Solomon Lazard, Henry Bauman, Maurice Kremer, Samson Laubheim, Wolf Kalisher,Henrey Wartenberg, Simon Ferner, H. Kraushaar, Jacob Rich, Isaac Schlesinger, Baruch Marks, Louis Schlesinger, Hyman Tischler, and Samuel and Isaiah M. Hellman.
In the 20th century, this corner was moved slightly to make room for a freeway. A Federal Office Building now sits (almost) on this historic site.
Source
Norton B. Stern, "Jacob Frankfort: The First Jew in Los Angeles, 1841," Western States Jewish History 38/3&4.