Frances Elaine Rosenthal Kallison
Values Codes I – E – L – P
Frances Rosenthal was born in 1908, in Fort Worth, Texas.
She earned her Master's Degree in Biblical Archeology from Trinity University in San Antonio.
Her thesis is titled, "100 Years of Jewry in San Antonio, TX."
Civic
Frances Rosenthal Kallison helped found the San Antonio Visiting Nurses Association.
She was a member of the San Antonio Conservation Society.
In 1948, she served as the Captain of the Bexar County Women's Sheriff's Posse.
In 1976, Kallison was commended by the Commissioners Court of Bexar County. She was named a "Hidalgo."
Kallison founded the Happy Hours Preschool for blind children.
She also organized the collection of school supplies and clothes for poor children, so that they could start the school year with their educational necessities covered.
Community
Frances Rosenthal Kallison was a member of the National Council of Jewish Women in San Antonio. She served as President of the local chapter and was Regional Director of the NCJW in the 1940s.
Kallison was a founding member of the Brandeis Women's Committee, both locally and nationally.
She was a member of the American Jewish Historical Society, and was appointed to its board in 1966. She wrote many articles for the AJHS.
She founded the Texas Jewish Historical Society, and served as its second President.
She was also a member of the Southern Jewish Historical Society.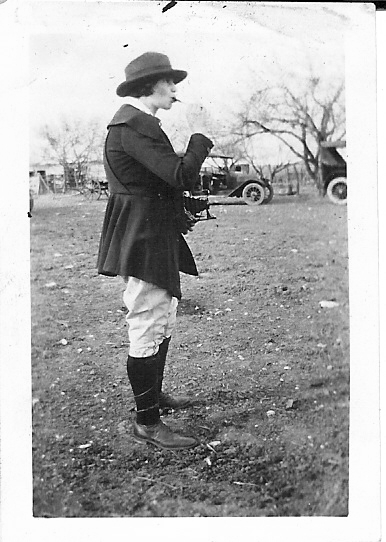 Family
In 1931, Frances Rosenthal married Perry Kallison.
They had three children: Maryann, Perry M. "Pete," and Frances Ray "Bobbi."
Frances Rosenthal Kallison died in 2004 in San Antonio.
Perry Kallison died in 1999 in San Antonio.
They are buried at the Temple Beth El Cemetery in San Antonio.
Legacy
In 2002, the Government Canyon State National Area expanded to include 1,161 acres of Kallison's Ranch due to its location above the recharge zone of the Edwards Aquifer.
Sources
Hollace Ava Weiner, "Frances Rosenthal Kallison 1908-2004: Texas Cowgirl with a Jewish Conscience," Western States Jewish History 48/1.
Nick Kotz, The Harness Maker's Dream: Nathan Kallison and the Rise of South Texas (Fort Worth, TX: Texas Christian University Press, 2013).
 Samantha Silver is curator for this Frances Rosenthal Kallison exhibit.