The Hochheimer Family
Values Codes I – E – L
The Hochheimer brothers were born in Pittsburgh, Pennsylvania, of German descent.
Moses Hochheimer was born in 1836. Amiel Hochheimer was born in 1849
Their sisters were Mattie (later Mrs. Julian Brock) and Bertha (later Mrs. Sam Blum).
Central Valley
In 1852, the Hochheimer family set out for California, crossing the Isthmus of Panama, and settling in the San Joaquin Valley.
Moses and Amiel Hochheimer went to school in Stockton, CA.
In the 1870's, the brothers worked in Dixon for Eppinger & Co., General Merchandise and Wheat.
In 1876, Moses Hochheimer, with William Johnson, opened a store in Willows – even before the town was surveyed.
Amiel Hochheimer bought out Johnson's share of the store, which became Hochheimer's & Co. in 1879.
In 1890, the Hochheimers bought their former employer, grain merchant Eppinger & Co.
Malcolm Brock, the Hochheimers' nephew, joined the business, in 1894.
In 1900, they bought another store, this time in Bakersfield, from Otto Belau and Dave Hirshfeld for $20,000.
In 1919, fire struck their Willows store, as well as other businesses.
Six weeks later, Hochheimers & Co. was up and running again in a temporary location.
By 1920, the new Bakersfield location at 20th and Chester was open for business.
In 1922, the rice crop failure affected many of their credit customers, causing the Willows store to close.
Malcolm Brock, who had been in Alaska, helped reorganize the troubled family business.
He bought Hochheimers & Co. with the approval of its creditors, and renamed the store Brock's.
Brock's eventually became part of the Gottschalk's Department Store chain.
Civic
In 1877, Moses Hochheimer was named first Postmaster of Germantown, now Artois.
In later years, he was a member of the San Francisco Chamber of Commerce.
Between 1896 & 1916, Amiel Hochheimer was a delegate to Republican National Convention from California.
In 1897, Amiel Hochheimer chaired a creamery association.
Families
Moses Hochheimer married Hattie Crawford. Moses Hochheimer died in 1911.
Amiel Hochheimer married Bertha Blum. They had 4 children, three boys and a daughter: Ira, Monroe, and Jacob (Jack). Daughter Elsie became Mrs. Brownstein of Los Angeles. The boys entered the family business. Amiel Hochhmeimer died in 1928. He is interned at the Home of Peace Cemetery, Temple Emanu-El Mausoleum, in Colma, California
Sam Blum of San Francisco married Bertha Hochheimer. Sam was in the mercantile business and a banker in Cordova, Alaska.
Julian Brock married Mattie Hochheimer. Julian was a partner in Cohn & Brock, a retail clothing store in San Francisco.
Malcom Brock was born in 1878. His first full-time job was working for his uncles Moses and Amiel Hochheimer in Willows, in 1894. In 1906, Malcom Brock went to San Francisco to look into construction possibilities. Three years later, he went to Cordova, Alaska, to manage uncle Sam's Blum, O'Neill – General Merchandise Company and the First Bank of Cordova. Malcom became partner and president of the bank. In 1922, Malcom returned to Bakersfield to help rescue Hochheimer & Co. He re-named the store – Brock's.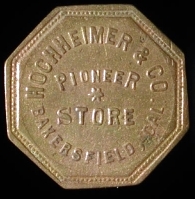 The plaque below is located in Bakersfield, California, in Kern County, at the intersection of 1918 Chester Avenue and 20th Street.
"This site was deeded by Col Thomas Baker to Agnes Stine in 1871.  Dave Hirshfeld ran the Pioneer Store here in 1899.  Succeeded by Otto Belau in the same year.  In 1904 the business was sold to Hochheimer and Co.  After the 1919 fire the structure was rebuilt in 1920.  In 1924 the property became Brock's Department Store, the present building was modernized following the earthquakes of 1952."
— Kern County Historical Society, 1970
Sources
Shirley Ann Newman, We Brought Sinai to San Joaquin, The Story of the Jews of Kern County (Bakersfield: Temple Beth El, 1998).
Annie R. Mitchell, "Pioneer Merchants of Tulare County, California," Western States Jewish Historical Quarterly 2/3.
"Jewish Businessmen of the Counties of Fresno, Tulare & Kern Counties," from Memorial and Biographical History of the Counties of Fresno, Tulare & Kern, California (1891), reprinted in Western States Jewish History 34/4.
Regina Merwin is curator of this Hochheimer Family exhibit.