David Kaufman
Values Codes I – E – L – P
David Kaufman was born in Fordon, Prussia, in 1833.
Along the way . . .
David Kaufman came to America, where he settled in San Francisco in 1858, where he worked briefly as a clothes renovator.
Kaufman heard about the Gold Rush in the Fraser River in Victoria, B.C.
He traveled North and worked as a tailor on Yates Street in Victoria.
In 1859, Hulda Harris, David's betrothed/childhood sweetheart, arrived in Victoria, and they were soon married.
In 1869, the Kaufmans settled in Seattle, Washington, where they were joined by Hulda's mother, who came from Prussia.
Seattle, Washington
In Seattle, David Kaufman made his living as a tailor and a shoe and boots merchant.
His shop was located on the corner of Seventh and Marion Streets.
In 1873, Kaufman purchased twelve acres of land for $200 between Main and Washington Streets and Twenty-fourth and Twenty-eighth Avenues.
In 1908, he still owned much of his original twelve acre purchase, which became some of the most valuable land in Seattle.
Kaufman also bought large tracts of land in the Green Lake district and Magnolia.
When the streetcar stop was built in Green Lake, it was called, "Kaufman Station."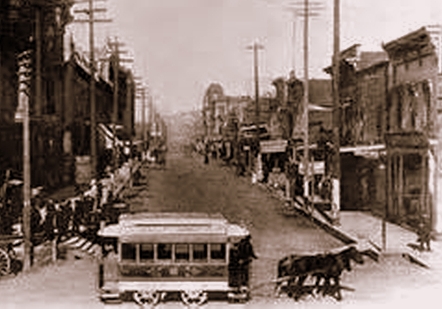 Community
In 1862, David Kaufman was elected to the first board of Congregation Emanu-El, a synagogue in Victoria that he helped found. In 1863, he was elected to the "messenger" position of the congregation, earning $10 a month for his service.
In 1869, when David and Hulda moved to Seattle, he helped found Congregation Ohaveth Sholem.
In 1891, he brought a Torah scroll from New York for Congregation Ohaveth Sholem.
In 1899, after Congregation Ohaveth Sholem ceased to exist, David Kaufman helped found Congregation De Hirsch, and donated the Torah to the new synagogue.
Family
In 1859, David Kaufman married Hulda Harris.
Their daughter, Sara Kaufman (Rucker), was born in 1869 — the first Jewish child born in Seattle.
In 1904, Kaufman built a house at 2765 Washington Street., where it remains to this day.
David Kaufman died in Seattle in 1912.
Hulda Kaufman passed away in 1906.
Sara Kaufman married Samuel Paschal Rucker in 1893.
In 1896, Samuel died of typhoid fever, just 15 months after their son Wally Rucker's birth.
Sara lived with her parents in the Washington Street home, inheriting it in 1912.
Wally graduated from Franklin High School in 1913.
Sara Kaufman Rucker lived a charitable life, active in Seattle's Jewish life and Congregation De Hirsch.
After World War II, Wally Rucker moved to California, where he founded the Glendale Golf and Country Club and worked for MGM.
In 1920, Sara Kaufman Rucker sold the house at 2765 Washington Street.
Source
Meta Buttnick, "A Seattle Jewish Home Through Eight Decades and Two Families," Western States Jewish History 21/1.
Samantha Silver is curator for this David Kaufman & Family exhibit.