Sammy Davis Jr. & May Britt's Wedding Certificate, 1960
Wedding Certificate, from the Western States Jewish History Archives
In 1960 Sammy Davis Jr. and May Britt decided to marry. Their courtship was intense and controversial.
Sammy Davis was black, American and known as a Jew.
May Britt Wilkins was white, Swedish, and known as a Christian.
Sammy Davis Jr. and May Britt visited Rabbi Dr. Max Nussbaum of Temple Israel of Hollywood, and May Britt presented herself for conversion.
Sammy Davis Jr. had shown his knowledge of Judaism in conversations with Rabbi Alvin Fine of Temple Emanu-El of San Francisco in 1955. However, he had not officially gone through conversion at that time.
The wedding ceremony was to be held at Temple Israel of Hollywood on November 13, 1960.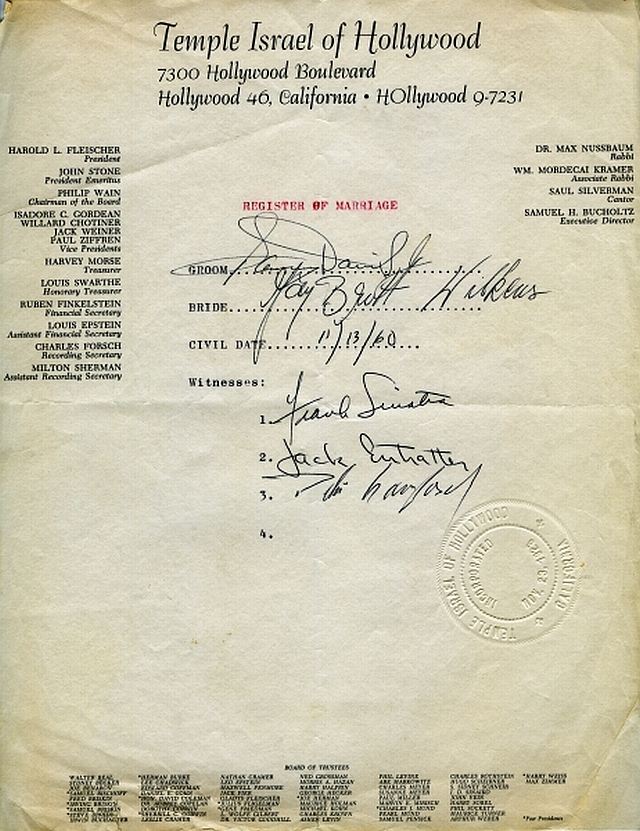 "The temple office was bombarded with obscene and threatening phone calls.  The temple trustees became frightened.  There were fears of a race riot if the wedding took place in the synagogue.  Rabbi Nussbaum was asked not to officiate.  The Rabbi was on the horns of a dilemma."  – David Max Eichorn, Joys of Jewish Folklore 
Rabbi Nussbaum was suddenly called out of town.
His assistant, Rabbi William Kramer, was asked to cover for him at the ceremony, which was to take place at Davis' home in the Hollywood Hills, rather than at the temple.
Rabbi Kramer was delighted. He was a great fan of Sammy Davis Jr.
Rabbi Kramer's wedding talk is recorded in Davis' autobiography, Yes, I Can.
After their divorce, following about eight years of marriage, May Britt Davis confided to Rabbi Kramer that Sammy had remained a good father to their children, concerned with their Jewish education, and had involved himself in the bar mitzvah training of their son, Mark.
The three witnesses on the certificate are Frank Sinatra, Frank Entrata, and Peter Lawford.
Source
William M. Kramer, "How I got to Officiate at the Wedding Ceremony of Sammy Davis Jr. & May Britt," Western States Jewish History 42/3&4.