Rabbi Hyam Zvee Sneersohn
Values Codes I – H – E – L – P
Rabbi Hyam Zvee Sneersohn was born in Russia and migrated to Jerusalem in 1840.
In 1869, Rabbi Sneersohn arrived in New York on a lecture tour.
His tour took him to Washington, D.C., where he was introduced to Ulysses S. Grant shortly after Grant's Presidential Inauguration.
During the next 18 months, Sneersohn toured the United States giving lectures.
In San Francisco, he lectured at Congregation Emanu-El.
Los Angeles
Rabbi Sneerson, a great-grandson of Shneur Zalman of Liadi, the founder of Chabad Chasidism, arrived in Los Angeles in late July 1870.
He gave two lectures to the community, on August 11 and 16.
He stayed at the Bella Union Hotel.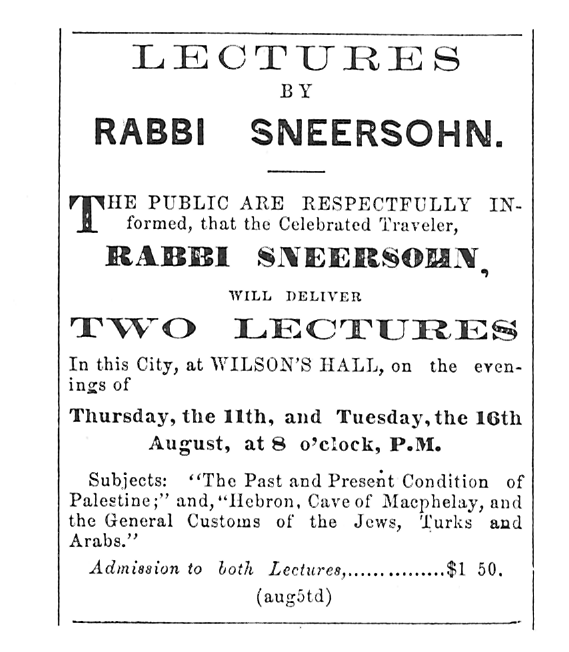 This Jewish traveler remained in Los Angeles just long enough to be counted in the 1870 United States Census [page 94].
"This distinguished scholar and traveler . . . was received with the courtesy and attention due to his position, as has been the case whenever he has traveled throughout the United States."
— The Los Angeles Star
Sources
Norton B. Stern, "Jews in the 1870 Census of Los Angeles," Western States Jewish History 38/3/&4.
Norton B. Stern and William M. Kramer, "A Pre-Israel Diplomat on an American Mission, 1869-1870," Western States Jewish Historical Quarterly 8/3.
* Photo of the Bella Union Hotel thanks to the Water & Power Associates