Levi Strauss
Values Codes I-H-E-L-P
If one askes most people,"Who is the most famous Jewish Pioneer in the Wild West? Most will respond, 'Levi Strauss'"
Levi Strauss was born "Lob" Struass in Buttenheim, Bavaria in 1829.
Levi (Lob) Strauss and his mother, Rebecca, arrived in New York in 1848, where he was reunited with his step-bothers Jonas and Louis who were operating a large dry goods business named J. Strauss & Brother.
Fanny Strauss, Levi's sister, who arrived with Levi and his mother at the same time, married David Stern in 1850.
San Francisco
Levi Strauss was made a U. S. Citizen in New York in 1853 and soon after traveled to San Francisco, probably by way of the Isthmus of Panama.
Shortly after he arrived in San Francisco, shipments of merchandise began arriving from his brothers in New York, and continued to arrive on a regular basis for years. This allowed Levi Strauss to have a full supply of dry goods in his family's Western wholesale business establishment at all times.
Contrary to legend, Levi Struass did not sell canvas. He did not make pants from canvas.
Levi Strauss sold dry goods and clothing to retailers all over Northern California, the Gold Country, Nevada, and even Hawaii.
Louis Strauss, Fanny and her husband David Stern  moved to San Francisco in 1855.
Jonas Strauss remained with his family in New York City.
Business
David Stern joined Levi Strauss and together they "built the business."
David Stern took care of the day to day business while Levi Strauss was more the Sales Manager and made the "connections."
In 1860 the business became Levi Strauss & Co.
Blue Jeans and Copper Rivits
Jacob Davis (Youphes) was a Jewish tailor in Reno, Nevada, who bought fabric from Levi Strauss & Co.
He made horse blankets, tents and wagon covers and put copper rivets at stress points to avoid tearing.
A woman complained to him that her husband's pockets in his work pants kept tearing.
Jacob Davis tried using his rivets on the pockets and: "work clothes history began to change."
Other local tailors started doing the same.
U.S. Patent #139,121
In 1872, Davis wrote to Levi Strauss suggesting that they apply for a patent.
U.S. Patent  #139,121 was granted in 1873 to Levi Strauss & Co. and Jacob Davis.
Levi Strauss hired Jacob Davis and moved his family to San Francisco where he was put in charge of overseeing the production of "copper riveted waist overalls" at Levi Strauss & Co.
Jacob Davis was made a partner in the business.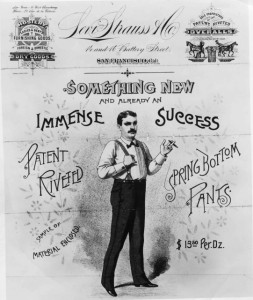 The now famous 501R workpant was known at the time as the "XX"
Levi's sister, Mary, had married William Sahlein in 1849 and worked with the New York firm.
In 1874 they traveled to San Francisco to help Fanny's husband, David Stern, who was in poor health.
David Stern died in 1875.
J. Strauss Brother & Co. in New York and Levi Strauss & Co. in San Francisco coexisted, shared products, and were owned by the same people.
In 1890 Levi Strauss incorporated Levi Strauss & Co. Inc. with the State of California.
He kept 55% of his shares and divided the rest among his four nephews, who ran the company well into the 20th century.
Community
Levi Strauss and David Stern helped fund the building of Congregation Emanu-El of which they were members.
Strauss helped fund the Pacific Hebrew Orphans' Asylum and Home, the Eureka Benevolent Society, the Hebrew Board of Relief, the Home for Aged Israelites, as well as both the Catholic and Protestant Orphan Asylums.
Levi Strauss also helped purchase land for Congregation Emanu-El's new cemetery in Colma, south of San Francisco.
Levi Strauss died in 1902, probably the best known Jewish Pioneer of the American Wild West.
Most of this information comes from the recent research of John Michael, M.D. a great-great-great grandson of Hirsh Strauss, Levi's father. His extensive research is featured in Volume 45, Issue #3 of Western States Jewish History.
More information can be found in the following issues of Western States Jewish History:
Strauss, Levi; Levi Strauss: The Man Behind the Myth; San Francisco; Stern, Norton B. & Kramer, William M.; 19/3
Strauss, Levi: The Man, His Family, and My Family; John Michael, M.D.: 45/3
Written material for this Levi Strauss Exhibit was created by John D. Michael, M.D., great-great-great grandson of Hirsch Strauss, Levi Strauss' father. It should be noted that most early materials of the Strauss and Stern families were destroyed in the 1906 Earthquake-Fire in San Francisco.
Go directly to the David Stern Exhibit [Click Here]
Photo Gallery [New photos always welcome]
Note: To enlarge any photo, click on the middle of it.
John D. Michael, M.D. great, great g nephew of Levi Strauss is Curator of this Exhibit