Lippman Sachs
Values Codes  I – E  P
Lippman Sachs was born in Germany in 1837.
Along the way
In 1861, Sachs immigrated to America with his brothers and settled in Jacksonville, Oregon.
That town was en­joying a mining boom, with gold having been dis­covered there in the 1850's.
The Sachs store in Jacksonville featured ladies' wear and dry goods and was called the Temple of Fash­ion.
San Francisco
After four successful years in Southern Oregon, Lippman Sachs came to California.
He settled in San Francisco in 1865, and became a member of the firm of Schweitzer, Sachs & Co., which included Bernard Schweitzer, Louis Stiefel, and his brother Samuel Sachs.
Soon, Lippman and another brother, Martin Sachs, established L.&M. Sachs & Co., which became, "one of the most extensive wholesale houses on the Coast."
The firm handled domestic and imported dry goods and cloth­ing.
Lippman's brother, Samuel, became the firm's buyer in New York City.
By the turn of last century, the wholesale house of Sachs Bros. & Co. was headed by Lippman and Samuel Sachs and their sister, Mrs. Louis (Matilda) Stiefel.
Lippman Sachs retired from business in 1906, and devoted himself to chari­table, religious, and public work.
Community
Lippman Sachs was very much an organizational man.
He was a member of the Eureka Benevolent Society and served as its presi­dent.
He was elected to the board of directors of Congregation Emanu-El in 1891.
In 1892, he became the treasurer of the Congregation for over a decade.
He was later elected as president of Congregation Emanu-El.
Fraternal
He was a 33rd degree Mason.
He was a member of the Concordia Club.
Civic
In 1907, while he was vice-president of Congregation Emanu-El, Sachs ran for Supervisor of San Francisco.
He was elected Supervisor with the next to the highest vote of all the candidates.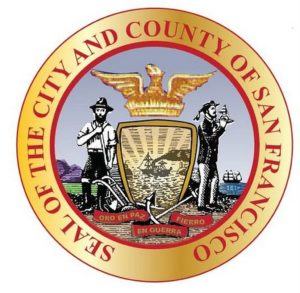 Known familiarly as "Lipp," he had endeared himself to people of all classes of society by his generosity and his "exceed­ingly tolerant attitude to others."
It was said that an appeal for any deserving cause was never made in vain to him.
Sachs readily condoned the faults and failing of those with whom he came into contact, which, considering his activities as an employer and orga­nizational figure, must have amounted to hundreds of people.
Sachs' achievements in business and in organizational life "never turned his head."
Family
Lippman Sachs married Mary Libermuth, and three children survived them.
Lippman Sachs died in 1912. His passing was featured in the San Francisco press, which referred to him as "one of the best-known and most popular public-spirited men on the Pacific Slope."
Source
Norton B. Stern, "Lippman Sachs," Western States Jewish History 41/2.