Click on blue items below to be taken to their exhibits
This Section of the Los Angeles Exhibition Hall is for special items of interest.
We expect it to grow with items supplied by our Museum Membership.
Unlike Brick & Mortar Museums we need only to photograph artifacts and obtain their history.
Neither security guards nor special display fixtures are necessary.
Also, our Special Exibitions, unlike other museums, can be kept on display forever.
And, unlike most museums, we do not charge for you to enjoy these exhibits.
But an occasional donation would help a lot! (See "Donations" on Bar Above.)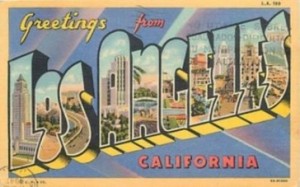 Table of Contents of Special Los Angeles Exhibits
Click on each one to enjoy these Special Los Angeles Exhibits.
The Citizenship Papers of Harris Newmark – Considered our original Jewish Patriarch
Map of Los Angeles in the 1890's
Wedding Certificate of Sammy Davis Jr. & May Britt from Temple Israel of Hollywood, 1961
Notes to Their Milkman from Jewish Immigrants Just Learning English in Boyle Heights, 1930s – this will touch your hearts.
Yom Kippur Dance at the Ambassador Hotel in 1949 – Flyer/Poster
La Fiesta de Los Angeles: 1894 – 1896 – a Special Old Postcard Exhibit
Note: If you have any items of Jewish Historical interest that you believe would be good for this section of our Museum, please contact us. Click on "Comments" on the wooden beam at the top of the page.
And for those of us from the past, a simple phone call will do at 818-225-9631. (Pacific time appreciated)