Alexander Salmon
Values Codes I – H – E – L – P
Alexander Salmon was born in London, England in 1820.
Along the way
In 1839, Alexander Salmon and his three brothers left the home of their wealthy father to seek their fortune in San Francisco, California.
The Salmon brothers met import export merchant, George William Dunnett, whose ships brought goods from the Pacific Islands to the mainland.
Alexander Salmon began working for Dunnett – destination: Polynesia.
Tahiti
In 1841, Alexander Salmon arrived in Tahiti.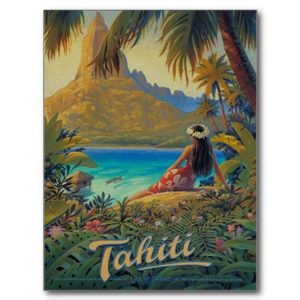 He was immediately welcomed into Queen Pomare IV's court, due to his intelligence, cultured upbringing, and manners.
Princess Arrioehau, "Princess of Peace," granddaughter of Chief Tati, adviser to the royal family, fell in love with Salmon at first sight.
However, in 1837, a law was passed making marriages between natives and foreigners illegal.
Queen Pomare IV arranged, by royal decree, for the law to be repealed for 3 days, enough time for Salmon to be given the Tahitian title of Ariitaimai, meaning "Prince who came from the sea."
After their marriage, Salmon turned his career focus from import-export to agriculture.
He planted coffee and oranges among the coconut groves on his wife's land in Tahiti, Moorea and Papara.
Civic
Alexander Salmon worked to bring about a French Protectorate over Tahiti.
He and his bride Arrioehau became diplomats, supporting the Queen in her dealings with England and France.
They helped return the Queen to power in 1847 and restore peace in Tahiti.
For his work, Salmon was awarded the Legion of Honor.
Alexander Salmon was also an Honorary Consul for the United States, and served as President of the Chamber of Commerce.
He was Vice President of one of the courts and a member of the Administrative Council.
Fraternal
Salmon served as President of the Papeete Masonic Lodge.
Family
Alexander Salmon and Arrioehau (1824–1897) had 9 children: Tetuanui Reiaitera'iatea Titaua (1842–1898), Ernest Tepauari'i'iahurai (1843 –1844), Ari'ino'ore Moetia (1848–1935), Ari'i Teuraitera'i Tati (1852–1918), Alexander Ari'ipaea Vehiaitipare (1855–1914), Jean Nari'ivaihoa Tepau Marama (1856–1906), Queen Johanna Marau Ta'aroa a Tepau (1860–1934), Lois Beretania (1863–1894), and Alexandria Manihinihi (1866 –1918).
Johanna Marau Ta'aroa a Tepau  married Prince Ariiaue – later known as Pomare V, the last king of Tahiti.
While Alexander Salmon was baptized by the Protestant Church and his descendants became practicing Christians, they continued to acknowledge their Jewish heritage.
Alexander Salmon died in 1866.
Herman Melville described Alexander Salmon in Omoo: A Narrative of Adventures in the South Seas (1847):
 "The lady he wedded being a near kinswoman of the queen, he became a permanent member of her majesty's household. This adventurer rose late, dressed theatrically in calico and trinkets, assumed a dictatorial tone in conversation, and was evidently on excellent terms with himself.  We found him reclining on a mat, smoking a reed-pipe of tobacco, in the midst of an admiring circle of chiefs and ladies.  He must have noticed our approach; but instead of rising and offering civilities, he went on talking and smoking, without even condescending to look at us."
Source
 Ida G. Cowan, "Alexander Salmon: The Jew Who Married into the Royal Family of Tahiti," Western States Jewish History 36/3.
Samantha Silver is curator of this Alexander Salmon exhibit.
==============================================================
Jews in the News — 
About this Time
A Minyan in Fiji — 1871
The Jewish residents of Loonka*, in the Fiji Islands, have already established a little congregation (minyan), and hold services weekly. Mr. P. S. Solomon officiates as reader.
        — Los Angeles Star, November 22, 1871 (WSJH 17/2)
*Loonka is probably Levuka, the capital of Fiji at that time.
Fiji Island News — 1877
A correspondent of the London Jewish Chronicle, writing from Lenika*, says: "His Excellency the Governor has paid us, the Jewish community, one of the greatest compliments in his power. He has chosen from a population of some 4,000 Europeans a Jew to be one of his Executive Counsellors. The gentleman chosen (Mr. Abraham Levy, of the firm D. Levy & Sons) has held a very high position here for some years.  In the old Fiji Government under Cakabu Rex, Mr. Levy held a seat in the House of Representatives.  Mr. Levy is much respected here, not only by his coreligionists, but by members of all denominations.  The Fiji Times says of the appointment:  "On Thursday last, Mr. A. Levy, of the firm of Messrs. D. Levy & Sons, was sworn in as a member of the Legislative Council. We are glad to find that his Excellency has exercised a thoroughly sound discretion in this matter, and that the services of a shrewd businessman have been secured to the community.  Whilst complimenting Mr. Levy upon his new honors, we may also congratulate the colonists upon the fact that they will have at the Council Board a gentleman upon whose independence and zeal every reliance may be placed."
       — The Jewish Times, New York, August 31, 1877 (WSJHQ 9/1)
       *Lenika is probably Levuka, the capital of Fiji at that time.