Judah Phillip Benjamin
Values Codes H – E – L
Judah Benjamin was born in St. Crox, West Indies in 1811.
His parents, Philip and Rebecca Benjamin, were Sephardic Jews whose ancestors had fled Spain during the 1492 Expulsion and settled in England.
While shopkeepers in London, they decided there might be better opportunities in the New World.
Along the way . . . 
The Benjamin family's planned destination was New Orleans, which was blockaded at that time, so they landed in St. Croix, eventually settling in Charleston, South Carolina.
Judah Benjamin entered Yale University at the age of 14, stayed for 3 years, but did not receive a degree.
New Orleans
Judah Benjamin moved to New Orleans where he "read" for the law and was admitted to the bar in 1832.
However, he did not start practicing law at that time. Instead, Benjamin taught school and published A Digest of Reported Decisions of the Supreme Court of the Late Territories of New Orleans and the Supreme Court of Louisiana (1834).
He then became a partner in what became a very successful law firm, Slidell, Benjamin & Conrad, working with planters and cotton merchants.
Benjamin even purchased a cotton plantation with over 150 slaves, which he sold a few years later. This was only time he owned slaves.
In 1847, he was admitted to practice before the United States Supreme Court.
Washington
In 1852, Benjamin was elected to the United States Senate as the first Jew elected to that body.
In 1854, he advocated for Douglas' Kansas-Nebraska Bill, and eventually the Supreme Court's Dred Scott Decision.
Senator Wade of Ohio remarked:
"Mr. Benjamin was a Hebrew with Egyptian principles."
Judah Benjamin replied:
"It is true that I am a Jew, and when my ancestors were receiving their Ten Commandments from the immediate Deity, amidst the thundering and lightnings of Mt. Sinai, the ancestors of my opponent were herding swine in the forests of Great Britain."
In 1861, at the time of Secession, both Benjamin and his colleague, John Slidell, withdrew from the United States Senate.
The Civil War
Confederate President Jefferson Davis appointed Judah Benjamin as Attorney General of the Confederacy.
He later served as Secretary of War and finally as the Secretary of State.
"Benjamin served Davis as his Sephardic ancestors had served the kings of Europe for hundreds of years, as a kind of court Jew to the Confederacy.   An insecure President [Davis] was able to trust him completely because, among other things, no Jew could ever challenge him for leadership of the Confederacy."
– Eli Evans, biographer
Much to the dismay of historians, Judah Benjamin burned most of his records and diaries before his death.
England
In the chaos after the assassination of Abraham Lincoln, Judah Benjamin fled to England, fearing he would be accused as a member of the plot.
In 1867, at the age of 55, he was called to the English Bar.
In 1868, Benjamin published A Treatise on the Law of Sale of Personal Property, which brought him honors and an appointment as Queen's Counsel.
In 1883, Benjamin retired from practice due to failing health and moved to Paris.
Judah Benjamin died in Paris in 1884.
He was buried in the Pere Lachaise Cemetery in Paris.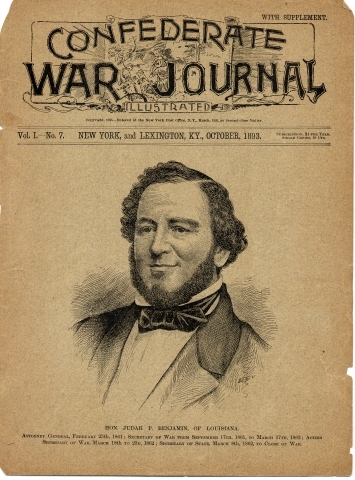 Source
History of the Jews of Louisiana, Jewish Historical Publishing Co. of Louisiana, Old Catalog, circa 1923.