Cantor Edward Stark
Values Codes  I – H – E – L
Edward Stark was born in 1856 in Hohenems, Austria.
Edward Stark's father, Cantor Josef Stark, was a pupil of Salomon Sulzer, the famed "father of the modern cantorate."
Josef Stark served as a cantor in Ichenhausen, Bavaria, and Edward Stark and his three brothers sang in his choirs.
The Stark family immigrated to New York in the 1860's and 70's.
Along the way . . .
Cantor Josef Stark assumed the pulpit of Congregation Adath Israel in a predominantly German-Jewish part of Manhattan.
Edward Stark continued to train for the cantorate with his father, and worked in his eldest brother's clothing business for some twenty years.
During that time, Edward pursued informal music studies, participated in amateur singing societies, and returned briefly to Europe to study music in Leipzig and Vienna (c. 1885-86).
Around 1891, Cantor Edward Stark took the cantorial post at Beth Elohim of Brooklyn.
San Francisco
In 1893, Edward Stark was hired as cantor of Congregation Emanu-El in San Francisco, one of the foremost Reform synagogues of the day. He held that position through the following two decades.
Article II of the "Bylaws of the Congregation Emanu-El" outlined Cantor Stark's duties, for which he received a handsome salary of $4,000 per year:
Section 1. The Cantor shall be present on all occasions of Divine service at the proper time.
Section 2. He shall attend all funerals and read the service at the house of mourning at the request of the family.
Section 3. He shall be assigned a class in the Religious School as teacher.
Section 4. He shall be director of the choir and perform such duties as the Board of Directors may prescribe.
Cantor Edward Stark's musical repertoire was typical of the late nineteenth-century American Reform movement.
It included pedestrian hymns, hymn-like settings, operatic selections and oratorio literature—largely in English translation.
Cantor Stark also utilized material from European Jewish sources, both folk and fully composed (especially the works of Sulzer).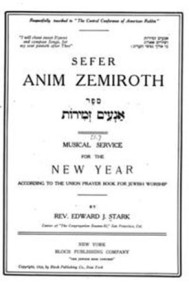 He ardently supported the use of the organ in synagogue services, which was played to accompany himself and a mixed choir.
Later in his tenure, Cantor Stark began composing liturgical pieces of his own, primarily adapting passages from the Reform movement's Union Prayer Book (1894).
He collaborated with his pulpit partner Rabbi Jacob Voorsanger on Congreation Emanu-El's Services for Children, and wrote and directed drama productions for the religious school.
Cantor Edward Stark's principal contribution is his four-volume Sefer Anim Zemiroth, published between 1909 and 1913. It contains settings for the Sabbath and High Holidays.
Family
Cantor Edward and Rose Stark celebrated their 25th Wedding Anniversary in 1909.
Three children are noted in various newspaper social columns: Joseph, on his reading of the Torah in 1903, and later the engagement and wedding announcements of two daughters, Josepha and Elsa.
Cantor Edward Stark retired fron Emanu-El in 1913 due to poor health.
He passed away in San Francisco in 1918 and was interred at Home of Peace cemetery in Colma, California.
Sources
Jeffrey S. Zucker, "Cantor Edward J. Stark at Congregation Emanu-El, Part 1," Western States Jewish History 17/3.
Jeffrey S. Zucker, "Cantor Edward J. Stark at Congregation Emanu-El, Part 2," Western States Jewish History 17/4.
Norton B. Stern, "Cantor Edward Stark," Western States Jewish History 41/2.
Jonathan Friedmann is curator of this Cantor Edward Stark exhibit.