Oscar Weil
Values Codes  H – E – L – P
Oscar Weil was born to German-Jewish immigrant parents in Columbia County, New York, in 1839.
At age eighteen, Weil left New York to pursue musical training at the Conservatory of Leipzig. Violin was his primary instrument.
After graduating, he continued his studies in Paris.
Along the way
With the outbreak of the Civil War, Oscar Weil returned to the United States and enlisted as a private for the Northern cause.
By the end of the fighting in 1865, he had risen to the rank of major and was twice decorated for bravery in some of the war's principal battles.
Injuries sustained in the war left Weil with fragile health and a permanently wounded hand, which ended his career as a concert performer.
Upon retiring from the army, he returned to Leipzig to re-invent himself as a composer and pedagogue of composition.
San Francisco
In 1868, after a year in Europe, Oscar Weil came back to America, this time seeking a climate better suited for his delicate health.
He settled in San Francisco.
His residence on 819 Post Street served as his music studio, and his main income came from teaching violin and composition.
Oscar Weil also co-founded the San Francisco Institute of Music, together with Louis Schmidt, which gave the first series of chamber music concerts in San Francisco.
Weil loved children and they reciprocated. Even in advanced age, he maintained a youthful spirit. He never "talked down" to his pupils, but respected them as budding artists and inspired them with his love for music and life in general.
According to the editors of the collection Oscar Weil: Letters and Papers (1923):
"A lesson from Mr. Weil was to the young student an educational adventure.  He constantly journeyed from the immediate business of the hour into fields of general culture, into the discussion of books, painting and poetry.  For he was deeply versed in the history and literature of the English, French and German peoples; and had brought away from his contact with these an imaginative power and a wealth of allusion which served to illuminate his own art.  To him art was all comprehensive and music only one of its manifestations."
Weil composed light opera, piano works, lieder, and choral pieces.
He also served as a music critic for the Argonaut newspaper in San Francisco.
His columns were unreserved, as was his disdain for modern musical trends.
Of Tchaikovsky he wrote: "Strange, how near he became to being a really great musician—and how entirely he missed it."
He quipped that Sibelius "very much needs a period of roast beef diet [Bach]."
Family
For a good portion of his career, Oscar's work sent him away on theatrical tours, leaving his wife, Phoebe Weil (née Cummings), alone with their son Leo.
Oscar eventually grew tired of this lifestyle and what he derided as the "commercialism" of the theater, and chose instead to compose chamber music from the comfort of his home.
After the tragedy of his son's death in 1919, Weil's heart began to trouble him. He suffered a series of slight heart attacks, followed by a rather serious one.
Oscar Weil passed away in his sleep in 1921. He was 82.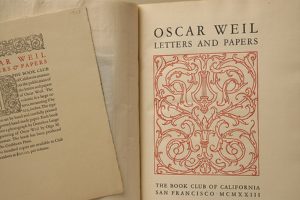 Albert I. Elkus, the late UC Berkeley professor of music, remembered Oscar Weil thus in the Forward to Early Master Teachers (1940):
"[He was a] slight, wiry man with bright, penetrating blue eyes, often whimsical, and with the white Vandyke beard, tinged with brown from the constant cigarette.   As a teacher of counterpoint Mr. Weil was inimitable, because of his unerring taste.  As a teacher of composition he was inclined to be somewhat intolerant of the changing harmonic idioms, although his intellectual curiosity was revealed by his appreciation of Schoenberg's theoretical work on harmony.  Schoenberg's music he did not care for."
Source
Norton B. Stern, "Oscar Weil: Dean of San Francisco Musical Circles, 1839-1921," Western States Jewish History 42/1.
Cantor Jonathan Friedmann is curator of this Oscar Weil exhibit.