Jewish American Pioneers & Deadwood, South Dakota
From the Historical Marker Below . . . .
Jewish American Pioneers significantly contributed to the commercial development and establishment of responsible government in Deadwood.
Gritty Jewish Westerners, such as Saul Star, arrived with his business partner Seth Bullock in the midst of the Gold Rush in 1876.
The firm of Star & Bullock, located at Wall and Main Streets, proved to be one of the most prosperous in the Black Hills.
Sol Star served as mayor of Deadwood for 14 years.
Sol Star established the Deadwood Flouring Mill with partners Ben Baer and Harris Franklin, two other early  Jewish Deadwood pioneers.
It was said that as long as Sol Star was with the company, no one in Deadwood ever went hungry.
The families of Harris Franklin and his son, Nathan Franklin (Deadwood's second Jewish Mayor), Jacob Goldberg, Nathan Colman, Joseph Hattenbach, Ben Baer, Jacob Wertheimer, Sam Schwarzwald, Sidney Jacobs and many of their Jewish friends, took their places besides their non-Jewish neighbors in working to tame the wild Dakota frontier.
The efforts of the Jewish business community helped bring prosperity, recognition and jobs to the region.
Not only did they help build the town and helped rebuild it after its many fires and floods, but they also were able to convince the railroads that Deadwood was entitled to take its place as a major commercial center with a railroad link to the outside world.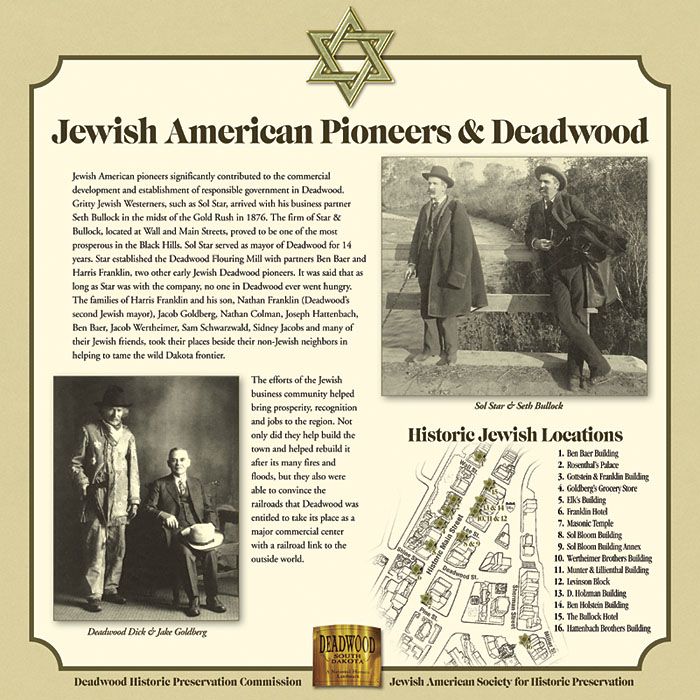 This Historical marker was created by the Deadwood Historic Preservation Commission and the Jewish American Society for Historic Preservation: http://jewish-american-society-for-historic-preservation.org/
Note received from museum visitor: The Wertheimer brothers were relatives on my maternal Grandmothers side. They first had a dry goods store, Wertheimer Brothers, est. 1877. One brother later ran a hotel. — Eliezer Froehlich