Early Jewish Pioneers of Des Moines, Iowa
William Krause was born in 1823, in Demmelsdorf, Germany.
He arrived in the United States at age 19 with his brother, Robert Krause.
William started working as peddler before moving to Iowa.
In Iowa he was a peddler for a bit, then opened a store in Des Moines.
William Krause was the founder of the Des Moines Public School System.
He was also a leader in moving the new state's capital from Iowa City to Des Moines, where he was a major promoter of his city's commerce.
William married Minna Maur. They had five children.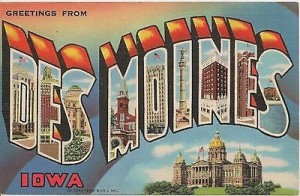 Henry Riegelman was born 1854, in Marion, Indiana.
In 1870, at age 16, he moved to Des Moines.
Riegelman became the Chairman of Polk County Democratic Committee.
He was eventually appointed to Democratic State Central Committee.
He also served as President of local B'nai B'rith Lodge.
J. R. Cohen, born 1854, was brought to the United States at the age of 12.
He grew up in New York Area, where he became a successful peddler.
In 1874, Cohen married Rachael Levich, who was from Des Moines.
The couple moved to Des Moines in 1880, where J. R. established a cigar factory.
J. R. Cohen was an active Mason.
Falk Brody was born in 1842 in Calvary in Poland/Russia.
He arrived in New York City, where he became a glazer, fixing broken windows in tenement houses.
In 1881, he moved to Des Moines, starting out as a peddler.
Brody did well enough to open up a peddler's wholesale supply business.
Brody's company flourished, reaching a point where he was doing over a quarter-of-a-million dollars in business per year.
Brody is credited with changing customer's habit of making their own clothes to purchasing ready-to-wear.
He always closed his business on the Sabbath and on Jewish holidays.
He also owned and farmed 600 acres of good land.
Moses H. Cohen was the first Jewish male born among the Polish Jews of Des Moines.
In 1918, he formed a law partnership with James Parrish.
That partnership grew into the Nyemaster Goode law firm, which is now Iowa's largest law office with over 90 attorneys.
 Cohen became the Republican Chairman of the  7th Congressional District.
Samuel Strauss owned the Des Moines Leader newspaper.
He merged with the Des Moines Register, establishing one of Iowa's most powerful early twentieth-century newspapers.
Strauss later moved to New York City where he purchased the New York Post.
Abraham Slimmer was successful in stock raising and other agricultural fields.
Slimmer was responsible for erecting and maintaining the Home for the Aged in Des Moines, as well as a hospital in Waverly, Bremer County, Iowa.
Jewish-owned businesses listed in 1860
Wolf Frank (b. Sydarg, Poland, 1820), boarding house
Nathan Goldstone, clothing
Hymon Herzberg, clothing
Jacobs & Weissman, dry goods
Joseph Kuhn (d. 1877), dry goods & clothing
Isaac Kuhn, Dry Goods & Clothing
Leopold Simon, clothing
Leopold Strauss, clothing
Theodore Wolf, general store
Jewish tradesmen in Des Moines in 1900
In addition to peddling and merchandise, Jews made their livings as factory hands, street laborers, tailors, cobblers, watchmakers, butchers, printers, cabinet makers, masons, actors, musicians, school teachers, bookkeepers, saloon keepers, grocerymen, manufacturers, rag pickers, news dealers, antique dealers, money brokers, iron dealers, photographers, telephone and telegraph operators, public office holders, nurses, lawyers, physicians, financiers, real estate agents, insurance agents landlords, jewelers, pawn brokers . . . .
Source
Simon Glazer, The Jews in Iowa (Des Moines, IA: Koch, 1904).
Thank you, Tom Walton, for additional information on Moses H. Cohen.