Eugene Meyer
Values Codes I – H – E – L – P
Born in France in 1842, Eugene Meyer came to Los Angeles in 1861, and worked in a dry goods store owned by his cousin, Solomon Lazard.
Eventually, Meyer bought the store, enlarged it, and named it City of Paris.
Civic
Eugene Meyer served as French consul in Los Angeles.
In 1883, he moved to San Francisco to become the West Coast manager of Lazard Frères (Lazard Family), supplying the thousands of miners in the Gold Country, 150 miles to the east.
Ten years later he moved to New York to head the company.
Family
Eugene Meyer married Harriet Newmark, daughter of Los Angeles Jewish pioneer Joseph Newmark, in 1867.
Eugene and Harriet had eight children.
Their son,
Eugene Meyer, Jr.
,
bought
The
Washington Post
in 1933, and later purchased
Newsweek
.
Eugene's daughter, Katherine Graham, ran the Washington Post for years.  
Eugene Meyer, Sr. died in 1925.
==========================================
"Jews in the News"
A Los Angeles French-born Jew makes a request — 1872
To the Honorable Mayor and City Council of Los Angeles.
Gentlemen:
Your petitioners, the officers and members of the French Benevolent Society, respectfully petition your honorable body, for a plot of ground in the city cemetery, in which to bury their members, similar to the plots given or sold to the Masons and Odd Fellows. We hope that your honorable body will consider our petition favorably.
Eugene Meyer, President, French Benevolent Society
Los Angeles City Council Minutes, November 21, 1872 (Western States Jewish Historical Quarterly 15/4).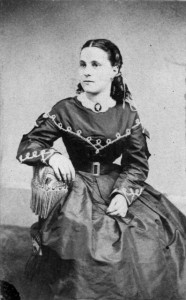 Harriet Newmark Meyer, 1867
Source
Eugene Meyers, "My Early Years," Western States Jewish Historical Quarterly 5/2.