The Phoenix & Northern, Arizona Exhibition Hall
This Phoenix & Northern Arizona Exhibition Hall focuses on the northern two-thirds of the current State of Arizona. Phoenix is its largest city. The cities and towns of Prescott, Flagstaff, Solomonville, Siligman, St. John's, and Kingman all were part of the Jewish Pioneer period in Northern Arizona.
Arizona's "Jewish European" history dates to the early days of the Spanish Conquest. Members of the Spanish army and many of the early Spanish colonists were "conversos," Jews who had been forcibly converted to Christianity in Spain.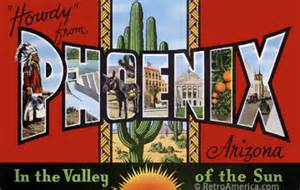 The Diamond Family of Phoenix, The Boston Store & Diamond's Department Store
Solomon Bart: Jewish Pioneer of Northeastern Arizona
Michael "Big Mike" Goldwater: Founder of Arizona Retailing & Political Dynasties
Wolf (Lukinitsky) Lukin: Pioneer Jewish Merchant of Tempe, Arizona and Friend of the Pima Indians
Wolf (Saclis) Sachs: One of the "Ten Cattle Kings of Arizona"
Isadore & Anna Solomon: Founders of Solomonville, Arizona Territory
Jacob Weinberger: Federal Judge Who Left His Mark on Arizona & San Diego California, Part 1