Michael "Big Mike" Goldwater (Goldvasser) 
"Big Mike" was 6'3"
Values Codes – I -E – L- P
Michael Goldvasser was born in 1821 – one of 22 children – in Konin, Poland.
Michael Goldvasser left Poland, in 1837, to avoid army service.
Michael Goldvasser spent 11 years in Paris before moving to London, in 1848
In London, Michael Goldvasser anglicized his name to from Michael Goldwasser to Michael Goldwater.
While in London Michael Goldwater married Sarah Nathan, in 1850.
Together they had 8 children.
Both Michael and Sarah Goldwater were trained tailors.
Joined by brother Joseph ('Little Joe') Goldwater, Michael Goldwater left for the United States, in 1852.
Sarah Goldwater and her two children, Caroline and Morris followed a little later.
Arriving in New York, they immediately booked passage on a steamer to the Isthmus, made their way across it, and picked up another steamer heading north to Yerba Buena (San Francisco).
In late 1852, they arrived in the California Gold Country – Sonora, California
Business of the "Goldwater Clan"
In Sonora, the Goldwaters supported themselves running a saloon under a bordello.
The business failed, so Sarah Goldwater opened a tailor ship.
In 1857, the Goldwaters moved to Los Angeles operating a billiard parlor and a dry goods store near the Bella Union Hotel.
Due to debts incurred in Sonora, the Goldwaters were forced to file for bankruptcy.
Sarah Goldwater did not appreciate the rough life she and Michael led in Sonora.
After a decade in Los Angeles with her husband she moved back to San Francisco and this became the Goldwater family's permanent home base.
Sarah never lived in Arizona.
Michael made frequent trips to the Bay Area to restock, but the couple was often separated for months at a time.
In 1860, Big Mike Goldwater took a wagon load of goods to Gila City, a mining town in Arizona.
He sold everything for a good profit.
In 1862, the Goldwaters opened a store in La Paz, Arizona, underwritten by Los Angeles capitalist, Bernard Cohn.
Extending credit to the Vulture Mine paid off for the Goldwater Brothers.
They opened a second store in Ehrenberg when the Gila River changed its course.
By 1867, the Goldwater Brothers were able to buy out Mr. Cohn.
Moving to Prescott, Arizona, J. Goldwater & Brother also began hauling freight as a sideline.
In 1872, the first Phoenix Goldwater Store opened with Michael Goldwater's son Morris managing.
Morris Goldwater had trained in San Francisco as a hatter and was also the official telegrapher for the Federal Government in the Phoenix store.
However, due to low profit, the Phoenix store was closed, in 1875.
In 1879, Goldwaters of Prescott opened.
"The Best Always" was its advertised motto.
Morris Goldwater managed it with great success.
On the top floor was a Masonic meeting place.
In 1880,  Joseph Goldwater sold his share of the business..
A new store and larger store was built at corner of Cortez and Union Streets with a Masons' Meeting Hall on the second floor.
In 1882, younger brother Baron Goldwater arrived from Philadelphia where he had been trained in department store merchandising in the famous Wannamaker's Department Store.
"Michael Goldwater had one of the best teams of horses in Arizona. 
"He was on his way to Prescott when he was warned by a soldier that the Apaches were a few miles ahead and it would be dangerous for him to go down the road.
"He replied that the roads were built for the citizens of Arizona and that no damn Apache could stop him. 
"When he came to the Apaches he whipped up his horses and drove through them, but then found he had acquired an arrow in his leg."
—Charles M. Wollenberg, Recollections of Arizona, 1876-1891 WSJH
In 1883, the Bisbee branch store was robbed, resulting in 3 murders and 5 hangings.
Michael Goldwater then retired to San Francisco.
Michael Goldwater's sons, Morris, Henry and Baron continued on with the Prescott store until 1890's when Baron convinced his brothers that Phoenix, now the state capital and growing rapidly, was the prime location for the next phase of Goldwater's.
The famous Goldwater's Department Store of Phoenix opened, in 1896.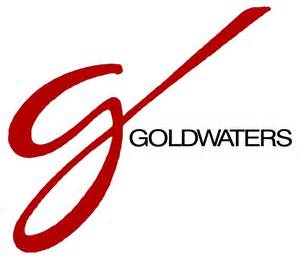 Baron Goldwater eventually became the lead manager, followed, after his death by his sons, Barry and Robert Goldwater.
Goldwater's Department Stores were eventually sold to Associated Dry Goods, and under went various name changes.
The remaining stores today are Macy's.
Michael "Big Mike" Goldwater
Civic
Over the years . . . .
Mayor of Prescottt, Arizona, 1885
Fraternal
Over the years . . .
Mason's: Tuolumme Lodge #8, 1855, Los Angeles Lodge #42 F&M, San Francisco Fidelity Lodge #120 F&M.
Community
Over the Years . . .
Michael Goldwater served as:
Sonora, California: Vice President of the Hebrew Benevolent Society.
Los Angeles: Vice President of the original Congregation B'nai B'rith, (Whilsire Boulevard Temple).
San Francisco: Vice President of Congregation Sherith Israel.
Michael Goldwater established the custom of the Vice President administering Hills of Eternity, the congregation's new cemetery in Colma, California, established in 1889.
President of the first Hebrew Benevolent Society, San Francisco, 1897.
Member of the Eureka Benevolent Society of San Francisco.
Member of the Pacific Hebrew Orphan Asylum of San Francisco.
Family
Married  Sarah Nathan in the Great Synagogue of London, in 1850.
Children: Caroline (Mrs. P.N. Aronson), Morris, Baron, Manny (aka Henry), Sam, Ben, Lizzy, Leonora (aka Annie –Mrs. Ralph Prager).
Morris Goldwater served as: Mayor of Prescott from 1879-1927 (on and off for a total of 20 years), President of the Twentieth Territorial Council,  councilman of Prescott, member of the 12th Territorial Council of Yavapai County, Chairman of the Territorial Democratic Central Committee, Supervisor of Yavapai County, President of the 20th Territorial Legislature, and Vice President of the Arizona Constitutional Convention.
Baron Goldwater: father of Senator Barry Goldwater.
Michael "Big Mike" Goldwater passed away in 1903, in San Francisco.
Sarah Nathan Goldwater passed away in 1905, in San Francisco.
They are buried in the Hills of Eternity Cemetery, Colma, California, next to brother, "Little Joe" Goldwater.
"In spite of things you may hear and read, I would contend that the thing the Goldwaters have done best for the past hundred years in Arizona is sell pants.
"At different times there have been Goldwater stores at La Paz, Ehrenberg, Prescott, Parker, Seymour, Lynx Creek, Phoenix, Bisbee, Fairbank, Contention, Tombstone, Benson and Critenden (not only are all the Goldwater stores gone now, but so are many of those towns).
"In the early days our family tried to meet every need of their communities…at first our store took pride in supplying most of the clothing, household, food, farm and industrial needs of pioneer towns.
"A customer could be completely outfitted at Goldwater's-from cradle to grave.
"There are pages in old company ledgers that actually relate the sale of baby wear and hardware for coffins on the same day.
"We sold everything the prospector needed from drill bits and black powder to demijohns of whiskey.
"We stocked groceries and stock feed; shoes and hats; furniture from Austria and herrings from Holland; horseshoes and horse collars; we had lamps and rugs for the front parlor, spices and soap for the kitchen, and anything needed for the outhouse.
"Goldwater's was a complete store."
–Senator Barry Goldwater
More information can be found in the following issue of Western States Jewish History:
Kramer, William,  Early California Associations of Michel Goldwater, WSJHQ p. 195 vols 4-5 1971
Photo Gallery  [More photos always welcomed]
Regina Merwin is Curator of this Goldwater Family Exhibit.
To enlarge pictures, simply click on them.
Multi-Generational Jewish Department Stores of the West
Neiman-Marcus of Dallas, Texas
Hamburger's Department Store of Los Angeles, California
Gump's of San Francisco, California
Meier & Frank of Portland, Oregon
Auerbach's of Salt Lake City, Utah
Goldwater's of Phoenix, Arizona
May Co. of St. Louis, Missouri