Nieman-Marcus
Values Codes  I-H-E-L-P
"In 1907, a store which was to become one of the most famous in the world opened its doors at the corner of Elm and Murphy in Dallas, Texas. The streets were unpaved and dusty, but those who saw the opening remember that the store was elegant." –Linda Hall, WSJH V7, #2, 1975.
The beginning of Neman-Marcus is the story of three Jewish "merchandisers," pioneers in the creation of women's "high fashion" in the Wild West – Herbert Marcus, Abraham Lincoln "Al" Neiman, and Carrie Marcus Neiman.
In the early 20th century, most women's clothing was made to order, a step-by-step processes – even in fashionable department stores. Fabric, lace, ribbons were chosen separately and put together by dressmakers or seamstresses – each dress or gown was a separate "event."
Nieman-Marcus introduced the new concept of ready-made, high-end fashion – adjusted by "alterations."
In addition, all this took place in an atmosphere of elegance not yet seen west of the Mississippi.
Herbert Marcus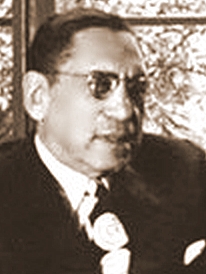 Herbert Marcus was born in Louisville, Kentucky in 1878.
Herbert was a high-school dropout who moved with his parents to Hillsboro, Texas where he worked in retail sales as a shoe salesman and then as a buyer for the Boys Department at the Sanger's Department Store. He married Minnie Lichtenstein in 1902.
In 1905 he resigned in order to join his new brother-in-law, Abraham Lincoln "Al" Neiman, in advertising and sales promotion in Atlanta, Georgia – as the American Salvage Company. An opportunity arose to sell the business and obtain a Coca-Cola franchise or cash out.  Cashing out was the choice made since the soft-drink company was basically unknown at that time.
Abraham Lincoln "Al" Neiman
Al Neiman was born in 1875 in Chicago, Illinois. He was raised in a Jewish orphanage in Cleveland, Ohio.
While working in Dallas, Texas in A. Harris & Co., a woman's department store, he met one of the store's fashion buyers, Carrie Marcus. They married in 1905 and moved to Atlanta, Georgia with Carrie's brother Herbert Marcus and sister-in law Minnie Lichtenstein Marcus.
Carrie Marcus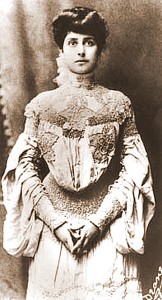 Carrie Marcus was born in Louisville Kentucky in 1883.
Carrie and her family moved to Dallas, Texas where she learned her trade as a fashion buyer at A. Harris & Co.
Nieman-Marcus
In 1907, Herbert and Minnie Marcus, Al & Carrie Neiman joined together to found Neiman-Marcus, that was to become the most "upscale" women's department store in the West.
In the early 1900's, women of means would travel to New York or Europe for custom clothing. It was the goal of the new Neiman-Marcus to bring them to their store in Dallas, instead.
With no credit and $17,000 in cash, Carrie and Al Neimen went to New York City while Herbert Marcus took responsibility of creating  a magnificent store.
Carrie Neiman did all the buying, using her own judgment and good taste. She bought silks and satins and furs. – everything from "Linen Waists" which would sell for between $3.25 and $5.00 to "Elegant Tailor Mades" (suits), which would sell for prices up to $250.
Magnificent mahogany cases were created to hold dresses around the walls of the first floor – no clothing hanging on racks like the other stores. Deep plush carpeting was everywhere.
All the departments were on the first floor – fine dresses, suits, furs, etc. The upper floor of the two story building housed the fitting rooms and alteration departments. Over $12,000 was spent for fixtures and equipment.
What was left of their money went to simple, but elegant, advertising – not the normal wordy advertisments of other stores.
On the day of the opening, September 10, 1907, a simple advertisment stated:
Opening Day Today    10:00 A.M. t0 10:00 P.M.
Souvenirs
All are Corially Invited
Nieman-Marcus Co.
Elm and Murphy Sts., Dallas
Exclusive Women's Clothiers
The opening was a resounding success. Success followed success.
By her personal actions, Carrie Marcus Nieman implemented her brother's motto, "It's never a good sale for Neiman Marcus unless it's a good buy for the customer."
Clients looked to her as an exemplar of style. She always dressed in understated elegance, typically a black dress with a strand of pearls and two gold bracelets.
Neiman-Marcus was different "from the beginning."
Civic
Herbert Neiman served as a Director of the Dallas Museum of Art.  He later served as President and Director of the Republican National Bank & Trust Company, and the Dallas Joint Land Bank.
He was a Founder, Director, and Treasurer of the Southwestern Medical Foundation, the primary fund-raiser for the establishment of the Southern Methodist University.
He was also a member of the Executive Committee of the Dallas Chamber of Commerce, and an active member on the Welfare Board of the City of Dallas.
Minnie Lichtenstein Marcus was an honorary Lifetime President of the Dallas Garden Center.
She donated land to Dallas Taping for the Blind.
Community
Herbert Marcus became President of Temple Emanu-El of Dallas, and a chief founder of the Southwestern division of the National Conference of Christians and Jews.
Minnie Lichtenstein Marcus helped many Jewish and interfaith organizations. She served on the boards of Temple Emanu-El, the Dallas Jewish Welfare Federation, and the Dallas Home for Jewish Aged, and received the Brotherhood Citation from the National Conference of Christians and Jews.
Family
Herbert Marcus married Minnie Lichtenstein. Together they had three children, Stanley, Edward and Lawrence.
Carrie Marcus married Abraham Lincoln "Al" Neiman in 1905.
Abraham Lincoln Neiman married Carrie Marcus in 1905. They divorced in 1928, and "Al" Marcus was bought out by the Marcus family for his share of the company for $250.000 and a non-compete clause.
"Al" married Dorothy Squires, a fashion model, in 1938, and they adopted World War II refugees Diana and Ursula Woolf.
Herbert Marcus died in 1970 and rests in a mausoleum at Sparkman Hillcrest Memorial Park in Dallas.
Carrie Marcus Neiman died in 1953. She is buried in the Temple Emanu-El Cemetery in Dallas.
Abraham "Al" Lincoln Neiman died in 1970 and is buried in the Hebrew Rest Cemetery in Fort Worth.
Minnie Lichtenstein Marcus died in 1979.

For more information, see the article in Western States Jewish History:
Nieman-Marcus: The Beginning, by Linda Hall, WSJH Vol.7, #2, 1975
More pictures are always welcome.
Multi-Generational Jewish Department Stores of the West
Neiman-Marcus of Dallas, Texas
Hamburger's Department Store of Los Angeles, California
Gump's of San Francisco, California
Meier & Frank of Portland, Oregon
Auerbach's of Salt Lake City, Utah
Goldwater's of Phoenix, Arizona