Moritz and Jetta Freund
Values Codes I-E-L
Moritz Freund was born in Bohemia, in 1810.-1872)
Jetta (Henrietta) Freund  was also born in Bohemia, in 1821.-1863)
In Bohemia, Moritz Freund was trained as a baker.
Moritz and "Jetta" Freund came to America after 1848, from Bohemia.
St. Louis
When they first settled in St. Louis, Moritz Freund worked as a dry goods peddler.
Around 1856, the Freunds lived at 913 Soulard, a home with a wood burning stove.
What began as the daily chore of baking bread for her family, turned into a bakery business called the Freund Baking Company.
They sold "Old Tyme Rye" bread, a Bohemian style rye, in St. Louis grocery stores and, later, countrywide.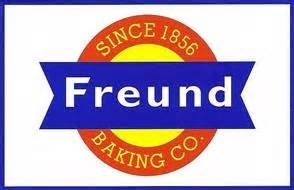 In the beginning, the wood for their oven was supplied by a struggling famer, Ulysses S. Grant.
The bakery was located at their Soulard home for more than 60 years.
During the Civil War, General Ulysses S. Grant, "commissioned" them to sell their bread to the army at Jefferson Barracks, which they did until the post closed after World War II.
Freund's Rye Bread was featured in every pavilion of the St. Louis World's Fair.
In 1921, the Freunds opened a new bakery at Taylor and Chouteau.
The Freund Baking Company remained family-owned for 4 generations.
They sold it in 1972 to a large food corporation.
Community
The Freunds were charter members of B'nai El Temple.
Family
Moritz and "Jetta" Freund had seven children: Leopold (b.1845) and Simon (b.1848-1931), Caroline (b.1852), Laura (1853-1868), Siegfried (b.1857), Emelie (1859-1869) and Bertha (b.1862).
Moritz Freund passed away in 1872. 
Jetta (Henrietta) Freund passed away in 1863.
Sources
Ehrlich, Walter. Zion in the Valley: The Jewish Community of St. Louis.  Volume 1. Columbia, Mo: University of Missouri Press, 1997.
Schwartz, Ellen Jane Freund. Freund Family Chronicles. 1992. http://home.earthlink.net/~anschwartz/personal/genealogy/freund/chronicles.htm
Samantha Silver is Curator of this Moritz and Jetta Freund Exhibit.
Appropriate pictures would be appreciated.