Albert Abraham Michelson
Values Codes I-H-E-L-P
Albert Abraham Michelson was born, in 1852, in Strzelno, Prussia, near Posen.
California
In 1855, Samuel and Rosalie Michelson brought their son to California, where they settled in Murphy's Camp in Calavaras County.
Samuel operated a dry goods store, across the state line, in near-by Virginia City, Nevada.
The family lived in Calaveras County while Albert was educated in San Francisco, graduating Lowell High School in 1869
Life as a Physicist
In 1869, Albert Michelson began his studies at the U. S. Naval Academy in Annapolis,  recieving his appointment from President Grant.
After graduation in 1873, Michelson entered the United States Navy as an Ensign.
Albert Michelson taught physics and chemistry as the Naval Academy from 1875-1879.
In 1878, Michelson discovered that light travels at a speed of 186,000 miles, later refined to 186,284 miles.  This discovery became the basis for Albert Einstein's Theory of Relativity.
In 1880, Albert Michelson studied in Berlin, Heidelberg and College de France.
From 1883-1889, Michelson taught at Case University in Cleveland.
From 1889-1892, Michelson taught at Clark University in Worchester, Massachusetts.
From 1892-1928, he was the head of the Physics department at the University of Chicago, returning to the Navy during WWI.
In 1907, Albert Michelson won the Nobel Prize for Physics for his optical precision instruments and the spectroscopic and metrological investigations carried out with their aid.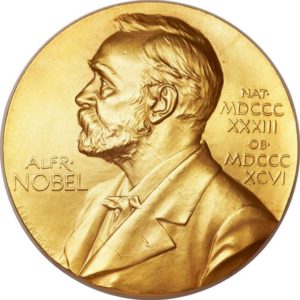 Albert Michelson was the first American Jew to receive this award.
In 1928, Michelson returned to California to work for the California Institute of Technology.
Civic
In 1923, Albert Michelson was elected President of the National Academy of Sciences.
In 1970, Michelson was elected to the Hall of Fame for Great Americans.
His Honorary Doctorates and awards were numerous.
According to Robert Milikan, Albert Michelson is one of the "three most remembered American physicists."
Family
Albert Michelson married Margaret Heminway, in 1877.
They had three children: Albert, Truman (1879-1938) and Elsa.
Margaret Michelson passed away in 1897.
In 1899, Albert Michelson married Edna Stanton.
They had three children: Beatrice (1904-1972), Madeleine and Dorothy.
Edna Michelson passed away in 1931.
Professor Albert A. Michelson died in 1931, in Pasadena, California.
He is buried in the Mountain View Cemetery and Mausoleum in California
Legacy
Albert Michelson Elementary School is in Murphy's Camp, California
Michelson Drive is one of the major streets in Irvine, California – on which are located three synagogues.
More information can be found in the following issue of Western States Jewish History:
Stern, Norton B. Professor Albert A. Michelson: from the California Gold Country, Calaveras County, to the Nobel Prize for Physics, 1852-1931. Western States Jewish History. v.41, no.4.
Other Source:
The Nobel Prize in Physics 1907. http://www.nobelprize.org/nobel_prizes/physics/laureates/1907/.
Samantha Silver is the Curator of this Michel A. Michelson exhibit
Feel free to "Like" this Exhibit on Facebook.
Note: This Exhibit is located in the California Gold Country Exhibition Hall.
If you came to it through the Los Angeles Exhibition Hall and wish to return that way, Click Here.