Isaac & Nathan Diamond
Values Codes I – E – L – P
Nathan Diamond was born, in 1867.
Isaac Diamond was born, in 1874.
Along the way . . .
In 1888, the two Diamond brothers, originally from Eastern Europe, emigrated from England to the United States.
Nathan was 21 and Issac was 14.
In 1891, the Diamonds came to El Paso, Texas where they opened "The New York Store."
For a while, they employed a young man — Sam Korrick — who would later move to Phoenix and open his own New York Store.
Arizona
Hearing of the great potential of Phoenix, the Diamonds moved their store there, in 1897.
Since Sam Korrick had already named his store, "The New York Store," so the Diamonds named their new store,"The Boston Store."
A fire claimed much of their merchandise in 1907, but the brothers rebuilt, even with an insurance shortfall.
In the 1920, the Diamond cousins Harold and Bert, and Herbert and Ralph joined the business, eventually taking over most management responsibilities.
By 1931, the store had 40,000 sq. ft. of retail space, and it was air conditioned!
In 1947, The Boston Store was renamed, Diamond's.
In 1957, Diamond's Department Store went through a series of sales to other department store chains and is currently part of the Dillards chain.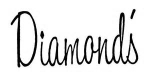 Civic
The Diamonds were among the founders of the Phoenix Symphony Orchestra and were early supporters of various Phoenix museums.
Community
Isaac and Nathan Diamond were among the founders of Temple Beth Israel and supporters throughout their lives.
Family
Isaac Diamond married Nellie.
Together they had two children: Herbert and Marion.
Nathan Diamond married Elma (1877-1960).
Their two sons were Harold and Bert.
Nathan Diamond died in 1941, and is buried with his wife at the Beth Israel Cemetery in Phoenix.
Isaac Diamond died, in 1945.
Source
William M. Kramer and Norton B. Stern, "Early California Associations of Michael Goldwater and His Family," Western States Jewish Historical Quarterly 4/4.
More photos always welcomed
Regina Merwin is curator of this Diamond Family exhibit.
Multi-Generational Jewish Department Stores of the West
Neiman-Marcus of Dallas, Texas
Hamburger's Department Store of Los Angeles, California
Gump's of San Francisco, California
Meier & Frank of Portland, Oregon
Auerbach's of Salt Lake City, Utah
Goldwater's of Phoenix, Arizona
May Co. of St. Louis, Missouri