Congregation Montefiore
Congregation Montefiore was the first synagogue in New Mexico, located in the city of Las Vegas, Northwest of Santa Fe.
In 1881, before Congregation Montefiore was formed, the Montefiore Jewish Cemetery was established next to the Masonic cemetery.
Congregation Montefiore was established in 1884 for the approximately 36 Jewish families in Las Vegas, New Mexico.
The synagogue was named for Sir Moses Montefiore, the English philanthropist who celebrated his 100th birthday that same year, in 1884.
Rabbi Joseph Glueck, the first and only rabbi in the New Mexico Territory, served Congregation Montefiore from 1884 to 1887.
In 1885, Congregation Montefiore was housed in a hall of the American Order of United Workmen.
First Building, 1886
The first building was dedicated in 1886, just before Rosh Hashanah. It was located at Ninth and Douglas.
The Hebrew Ladies Benevolent Society was formed in 1887.
B'nai B'rith Chapter, Lodge number 545, was created in 1902.
The second rabbi of Congregation Montefiore was Rabbi E. R. Schellitzer, who served from 1887 to 1889.
Rabbi Sigmund Frey, the congregation's third rabbi, served from 1889 to1891.
Rabbi Benjamin A Bonnheim served from 1897 to 1902.
Second Building, 1922
The second building of Congregation Montefiore was completed in 1922 at Eighth and Columbia.
Due to dwindling population, services ceased in 1950.
The congregation sold the building to the Catholic Newman Center, which remains to this day, with a plaque identifying its historical significance as the former home of Congregation Montefiore.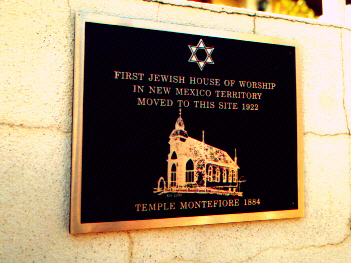 Samantha Silver is curator for this Congregation Montefiore exhibit.
Plaque photos by Jerry Klinger of the Jewish American Society for Historic Preservation.