Benjamin Platt
Values Codes I – H – E – L – P
Born in Khoderkov, a small shtetl near Kiev, around 1882, Benjamin Platt immigrated to New York in 1902 or 1903, becoming a salesman for the Singer Sewing Machine Company.
According to family lore, Platt brought a load of eggs to Kiev to sell one day, sold them, and kept going until he reached New York!
Los Angeles
Platt arrived to Los Angeles around 1906, where he continued to sell sewing machines door-to-door.
Shortly after he settled in Los Angeles, Platt took a piano in trade for a sewing machine. He soon discovered that the piano was worth much more than the sewing machine.
His first store at 316 West Seventh Street in Los Angeles, established in 1909, sold both sewing machines and pianos. Within two years, the store was selling only musical instruments.
In 1918, the main store of the Platt Music Company was located at 622 South Broadway. Benjamin Platt was "President and Manager."
By the late 1920s, the business had expanded to thirty stores from Los Angeles to San Francisco, making it one of the four largest music chains in America. The stores specialized in pianos, band and string instruments, sheet music, records, and radios.
Albert Platt, Benjamin's younger brother, managed the Platt Music store on Brooklyn Ave. in Boyle Heights.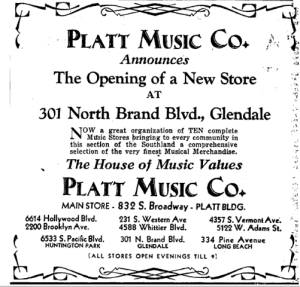 In 1926, Platt purchased an expansive estate at 2600 North Vermont Avenue, complete with a tennis court and large swimming pool—among the first such luxuries in the city.
Platt enjoyed a friendly relationship with Tom May of the May Company, one of the locations where Platt leased retail space.
The Platt Music Company Building, a twelve-story Gothic Revival structure at 834 South Broadway, was opened in 1927.
When the Great Depression forced the liquidation of the Platt Music Co. in 1931, Platt salvaged the business by acquiring the music concession at the May Company, including its radio sales.
As the May Company branched into numerous department stores, Platt's business expanded along with it, eventually becoming a major seller of televisions (first mass produced in 1946-47).
Civic and Community
Benjamin Platt was present at the groundbreaking of Sinai Temple in 1925 and was the congregation's longest-serving president.
Platt was president of the Jewish Home for the Aging (est. 1912), a founding board member of the City of Hope (est. 1913), and an active supporter of the University of Judaism (now American Jewish University, est. 1947).
Fraternal
Platt was a member of the Masonic Order (Westgate Lodge) and the Al Malaikah Shrine.
Family
In 1908, Benjamin Platt married Sophie Cohen, a native of Russia whom he had known in New York. Their four sons – Herman, David, Conrad, and Leo – were all born in Los Angeles.
In 1955, a banquet was held at the Ambassador Hotel honoring Platt for his 50 years in music retail. The event attracted leaders in the piano, radio, television, and refrigerator industries.
Platt died on April 18, 1960. The following morning, the Los Angeles City Council adjourned in his memory and ceased conducting business for the rest of the day.
Benjamin's eldest son Herman served as CEO of the Platt Music Corporation from 1956 until 1984, leasing space in national department stores. National operations ended in 1988.
Source
"Ben Platt: Music Tycoon of Los Angeles: A Picture Story," Western State Jewish History 16/4.
Herman Platt, "Platt Music Corporation and the 'Ben Platt Years,'" Western States Jewish History 43/1.
Thank you to Gary Platt, son of Albert Platt and nephew of Benjamin Platt, for additional information. 
Jonathan Friedmann is curator for this Benjamin Platt exhibit.