The Auerbach Family
The First Generation
Values Codes I-H-E-L-P
Frederick H. Auerbach
& Samuel H. Auerbach
Frederick H. Auerbach was born in Fordon, Prussia, in 1836.
Samuel H. Auerbach was born in Fordon, Prussia, in 1847.
Their  parents were Hillel  and Beulah Auerbach.
Along the way
Coming to America at an early age, the West called and the two brothers came to the California Gold Country via the Isthmus of Pamama, opening a store in the mining camp called Rabbit Creek – in 1857.
They also opened a tent store in Bodie.
In 1863 the brothers moved Austin, Nevada, following ore strikes.
Shortly afterwards, Frederick Auerbach went to Salt Lake City where he befriended Brighan Young who helped him secure property on what is now Main Street for their first Utah Store – known as The People's Store: F. Auerbach and Brothers.
Frederick and Samuel Auerbach's business flourished until  a Mormon-owned firm, ZCMI opened, putting non-Morman establishments in jepordy.
The Auerbach's opened a second store in Corinne, Utah where more non-Mormon's settled, as well as Ogden, Utah.
They also ran tent stores along the rail construction route that eventually reached Promontory Point, in 1869, initiating the first transcontinental railroad.
In 1879, the Auerbachs moved their Salt Lake City store into the former Masonic building.
Money was so scarce that the Mormon Church issued tithing script which was used in place of money.
To help in controlling an epidemic, the Auerbach brothers donated their entire stock of medicines to the Mormon Church.
In appreciation of this, Brigham Young gave to the Auerbach's the privilege of redeeming tithing script at face value.
This was a privilege enjoyed by no other non-Mormon store.
In 1912, Auerbachs Department store, enlarging each time, moved again to what is now Broadway.
Samuel and Eveline Auerbach moved to New York City in 1909, leaving their son, George S. Auerbach in charge.
"Shrewd, and possessed of natural tact and ability, Mr. Auerbach at an early age readily realized the commercial possibilities of the Mormon metropolis.
"With a disposition which enabled him to make friends and hold them, his rise in the business world was rapid and substantial, and at no time from the beginning of his career was there ever a shadow of doubt as to the ultimate success of his ventures.
"While no longer an actual resident of the city, Mr. Auerbach is still looked up to as one of the pillars of the Salt Lake industrial world, and as such is accorded a measure of admiration and respect which is at once a tribute to his ability and a proof of the appreciation of his services to the community."
–The Salt Lake Tribune, 1909.
Frederick Auerbach never married.
Samuel Auerbach married Miss Eveline Brooks, in 1880.
Together they had eight children: Herbert S., Josephine M., George S., Bessie, Selma, Jennie, Frederick S. and Madeline.
Frederick H. Auerbach died in 1896 and is buried in the B'nai Israel Cemetery in Salt Lake City.
Samuel H. Auerbach died in 1920.
The Second Generation
Values Codes I-H-E-L-P
Herbert Samuel Auerbach
Herbert Samuel Auerbach was born in Salt Lake City, in 1882, to Samuel H. and Eveline Brooks Auerbach.
In 1897, he went abroad to study in the Fresenius Laboratories and the J. J. Meier School at Wiesbaden, Germany.
Three years later he took up studies in Lausanne, Switzerland, at the Conservatory of Music and Lausanne Technical School.
After graduating he toured the concert stage in Europe as a violinist.
Herbert Samuel Auerbach then entered the Columbia University School of Mines in New York City and received a Master's Degree in electrometallurgy in 1906.
For several years he worked as a consulting engineer and was in charge of numerous mining properties in Colorado and Idaho.
Gradually, though, he began to take more interest in his family's business.

From 1911, on he devoted all his time to it, becoming President of Auerbach Company and the family real estate firm and other businesses.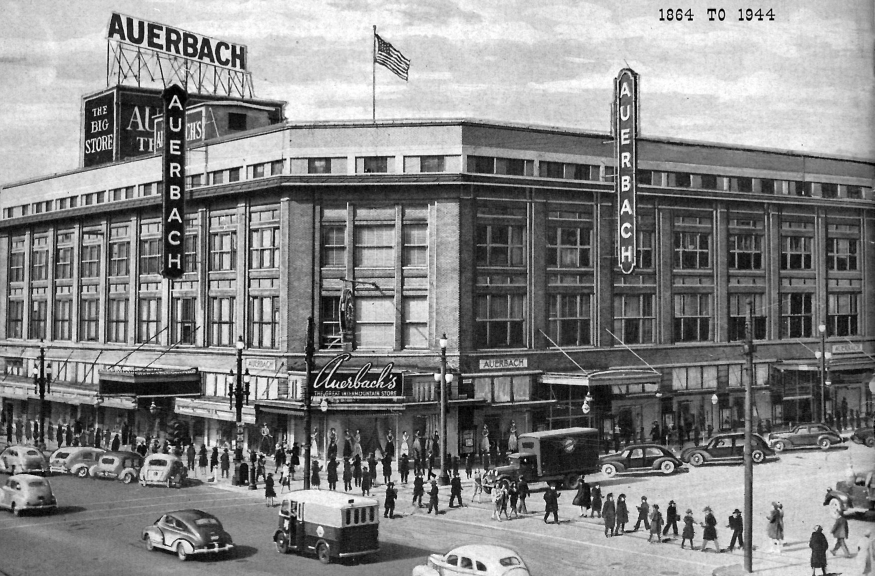 Civic
Herbert Auerbach served on the Board of Regents of the University of Utah, in 1917.
He enlisted in the army when the United States entered World War I, serving as a Major in Ordinance, until 1919.
He was a life long member of the Chamber of Commerce and Rotary Club.
Herbert Auerbach was a member of the Metropolitan Water Board of Salt Lake City, from 1935 to 1942, and a Director of the Colorado River Basin Water Users Association, 1941-42.
In 1925, he began the first of two terms in the Utah State Legislature.
Fraternal
Herbert Auerbach was a member of Salt Lake Post No. 2, American Legion, and the Alta Club.
Proud of his pioneer Jewish heritage, he served as President of the Sons of the Utah Pioneers.
He was also a member of the American Society of Composers, Authors, and Publishers.
Herbert Auerbach died in 1945
"His success in life was attributed by his Rabbi to his instinctive quest for those things which unite men, rather than the differences which break them up into sects."
—J. Cecil Alter, "In Memoriam, Herbert S. Auerbach, 1882-1945" Utah Historical Quarterly 13 (1945).
His funeral was held, not in the Synagogue, but in the larger Assembly Hall on Temple Square where people of all religious faiths and those of no affiliation paid their respects.
George Samuel Auerbach
George Samuel Auerbach, the second son of Samuel H. Auerbach, learned the business in the family store and then married Beartrice Fox, daughter of Moses Fox, son of the founder, Gerson Fox, of the great G. Fox Department Store of Hartford, Connecticut.
Beartrice Fox, born, in 1887, now Beatrice Fox Auerbach, moved to Salt Lake City and became involved with Auerbach's Department Store.
G. Fox in Hartford suffered a devastating fire in 1917.
Moses Fox rebuilt an even larger store, eleven stories high building which opened, in 1918.
Beartrice and George S. Auerbach, moved to Hartford from Salt Lake City to help with the business.
George died unexpectedly in 1927, and Beatrice Fox Auerbach then began working alongside her father, eventually taking over the Presidency of G. Fox & Co.
Beatrice Fox Auerbach became the leading citizen of Hartford for decades, as well as the largest supporter of both Jewish and local charities.
George Samuel Auerbach died in 1927, and is buried in Beth Israel Cemetery in Hartford, Connecticut
Beatrice Fox Auerbach died in 1968, and is buried with her husband.
JMAW's Museum Director's Note: In 1962, at the tender age of 25, I was offered a management position at G. Fox & Co.
On the same day I was offered a merchandising position in Los Angeles with a growing discount store chain.
My family chose California and we moved from Connecticut to the San Fernando Valley. (GOOD DECISION!)
=====================================
"Jews in the News"
A Letter from Salt Lake City, Utah, — 1865
Salt Lake City, October 31, 1865
Editor: The Hebrew:
At a meeting of the Israelites of this city and vicinity, held on Sunday, 15th inst., the First Hebrew Benevolent Society of Great Salt Lake City was duly organized, and after the adoption of a constitution and by-laws, the following resolution was carried:
Resolved: That The Hebrew, Hebrew Observer, of San Francisco, and The Israelite of Cincinnati be informed of our organization, and of the election of the following gentlemen as officers for the ensuing term: President, Fred Auerbach; Vice-President, L. Levy; Treasurer, Solomon Siegel; Secretary, Theodore Auerbach; for Trustees: Messrs. J. M. Ellis, Harris Aaron, Jacob Ornstein, L. Reggel, and S. W. Joel.
One of the sections of the constitution adopted by the society, makes it incumbent upon every member "to observe in due form the most sacred Holydays in our calendar, viz ; New Year's Days, and the Days of Atonement.
 Theodore Auerbach, Secretary. [A founder of Auerbach's Department Store]
—The Hebrew, San Francisco, Nov. 17, 1865, WSJH, Vol. 2, #3.
For more information see the following issue of Western States Jewish History:
Auerbach's: One of the West's Oldest Department Stores; by Rudd, Hynda; WSJH, Vol 11, Issue #3, 1973.
Also:
Thanks to Amazon.com we obtained a wonderful, picture book published by Auerbach's for its 80 anniversary, 80th Anniversary: 80 Years of Service, Auerbach Co., Salt Lake City, Utah.
Family photos and more information are always welcome.
A Special Series
Multi-Generational Jewish Department Stores of the West
Neiman-Marcus of Dallas, Texas
Hamburger's Department Store of Los Angeles, California
Gump's of San Francisco, California
Meier & Frank of Portland, Oregon
Auerbach's of Salt Lake City, Utah
Goldwater's of Phoenix, Arizona