Samuel K. Labatt
Values Code: I-E-L-P
Samuel K. Labatt was born in North Carolina in 1830.
As a young man he traveled to New Orleans where he was an officer in the Hebrew Benevolent Society.
He arrived in Los Angeles in 1853 with his brother, Joseph Isaac Labatt.
Business
Samual Labatt opened a "fancy" dry goods store called La Tienda de China.  It was located on the Southwest coner of Main and Commercial Streets, near the Bella Union Hotel.
A rapid success, the store was moved to a larger and new brick building, also on Main Street, where it specialized in, "Fancy Dry Goods, Gent's Furnishings, $20,000 Worth of Jewely, Gold Watches, and Accordians."
Civic Involvement
When Solomon Carvalho, another Sephardic Jew, arrived with the Fremont Expedition in 1854, the Labatt brothers and Carvalho joined together to help solve the problem of not having any organization in the Los Angeles Jewish Community.
The result was the Hebrew Benelolent Society, the first non-Profit organization chartered by the City of Los Angeles.
Samuel Labatt was its first President.
Today the same organization survives as the Jewish Family Service of Los Angeles.
During 1853 & 1854, Samuel Labatt was Sargeant in the local militia
In 1855 he was appointed Commander of the Ringgold Lite Artillery.
When it became a part of the city government, Labatt retained his command.
The Labatt brothers left Los Angeles in 1855, for San Francisco.
Samuel later moved East to Galveston, Texas.
Samuel K. Labatt died in Waco, Texas in 1873.
More information can be found in the following issue of Western States Jewish History:
Labatt Family; Sephardic Founders of the Los Angeles Jewish Community: Samuel K. & Joseph I Labatt; Los Angeles; Stern, Norton B. & Kramer, William M.; 28/4

Labatt, Samuel K. Samuel K. Labatt: Sephardic Founder of the Los Angeles Jewish Community, 1830-1873. William M. Kramer and Norton B. Stern.; 38/3&4.

Labatt, Samuel K.; Final Resting Place of Los Angeles Jewry's First President; Los Angeles; Stern, Norton B.; 18/4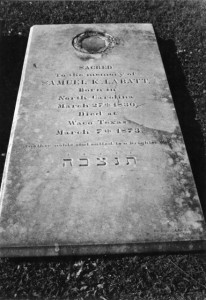 Labatt Photo Gallery
If any Museum Visitors or Family have photographs of the Labatts, please contact us.
More Early Los Angeles Jewish Pioneers
For more Early Los Angeles Jewish Pioneers click here for the Table of Contents.
Some, but not all of the Los Angeles Pioneers, can be reached by clicking on their name on the list near the upper right of this page.