The First Kaspare Cohn Hospital
In 1902, Kaspare Cohn first purchased and then donated a large home on Carroll Avenue in Los Angeles for use as a hospital for Jewish patients with tuberculosis.
Shortly thereafter, the City of Los Angeles decreed that all tubercular facilities were to move out of the city limits. [Click here to visit the exhibit on The City of Hope.]
Due to neighbor complaints, a second and larger Kaspare Cohn Hospital was built on Whittier Boulevard, near Boyle Heights, for general care.
The new facility opened in 1910 with beds for 50 patients.
In 1930, a third hospital was built on Fountain Avenue in the Hollywood area.
Although a great deal of the money raised for this hospital came from the Kaspare Cohn estate, his family asked for the name Cedars of Lebanon because many others had also donated money for the new hospital.
Many Jews over 75 or older who were born in Los Angeles were born at Cedars of Lebanon.
Today the beautiful art-deco building is painted blue and belongs to Scientology.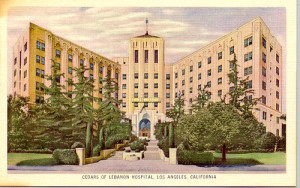 ************************************************************
Bikur Cholim Society
In 1918, the Bikur Cholim Society opened a two-room hospice.
In 1921, when the Society moved to Boyle Heights, the hospice became the Bikur Cholim Hospital.
It was re-named the Mount Sinai Home in 1923, and in 1926 a new Mount Sinai Hospital was built on Bonnie Beach Place.
In 1955, a new Mount Sini Hospital opened on Beverly Boulevard.
***********************************************************
The Merger of Cedars of Lebanon and Mt. Sinai
The Los Angeles Jewish Medical Center came into being in 1961, merging the two hospitals: Cedars of Lebanon and Mount Sinai.
After ten years of planning, construction began on the Cedars-Sinai Medical Center.
The first patients were moved into the facility in 1976.
Today, Cedars-Sinai Medical Center is one of the great hospitals and medical facilities in the United States.