Joseph Bartlett Choynski
Values Codes E – L – P
Joseph Bartlett Choynski was born in San Francisco, California, in 1868.
He was born to Isidor Nathan Choynski and Harriet Ashim.
He had five siblings: Herbert, Miriam, Maurice, and Edwin.
San Francisco
Joseph ("Joe") Choynski worked first as a blacksmith and a candymaker in San Francisco.
He became an amateur boxer around 1884, and turned professional in 1888, eventually entering the Boxing Hall of Fame.
Joe Choynski was the first world Light-Heavyweight Champion.
He defended his title twice: a 3rd round knockout of Austrian Jim Hall in September 1899, and a 7th round kayo of "Australian" Jimmy Ryan in October 1899.
Choynski lost recognition as champion when he was robbed of a knockout win over "Kid" McCoy in January 1900, being declared a knockout loser after 3 rounds.
Choynski fought heavyweights such as "Gentleman" Jim Corbett and "Sailor" Tom Sharkey, although he never exceeded 170 lbs.
He retired from active prizefighting in 1904.
"Joe, known for his punching prowess as well as his cunning and dexterity, did not rise from a vacuum. While noted for being cerebral and gentlemanly outside the boxing ring, he was nicknamed 'The California Terror' for his exploits inside of it."  
— Christopher J. LaForce
Joe Choynski worked for a short time as a salesman for an insurance company, the Western Felt Company, and as a cigar producer.
In 1920, he became a chiropractor, though it eventually turned into only a part-time occupation.
Joe Choynski was also a boxing trainer and referee, and was employed by several athletic associations over the years.
Fraternal
Choynski was an active member of The Benevolent and Protective Order of Elks.
Family
Joseph Choynski married Louise Anderson Miller, an actress, in 1895, in Cincinnati, Ohio.
Joseph Bartlett Choynski passed away on January 25, 1943 in Walnut Hills, Cincinnati, Ohio.
Sources
Christopher J. LaForce, "Joe Choynski's Combative Clan," Western States Jewish History 46/1.
Christopher J. LaForce, The Choynski Chronicles: A Biography of Hall of Fame Boxer Jewish Joe Choynski (Win by KO, 2013).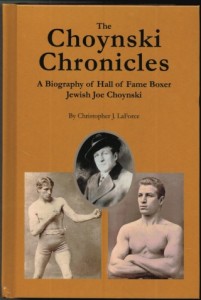 Christopher J. LaForce is curator of this Joe Choynski exhibit.