The Gumps
Family Values Codes  I – H – E – L -P
Solomon Gump
Solomon Gump was born in 1833 in Heidelberg, Baden-Wuerttemberg, Germany. His father was a textile manufacturer.
Although the family was from Germany, research points to them being of Sephardic origin.
In 1850, Solomon Gump came to the United States with his brother, Gustave Gump.
They arrived in New York and then journeyed to Florida.
For about ten years, Solomon and Gustave Gump worked in the dry goods industry in Apalachicola, Florida.
In the early 1860's, Solomon Gump caught "Gold Fever" and journeyed west to California.
He joined David Hausmann, his brother-in-law, who was married to Solomon's sister, Gertrude, in a gold frame and mirror shop in San Francisco. 
In 1861, the shop was known as David Hausmann & Co.
In 1864, Solomon Gump bought the successful shop from Hausmann. 
Solomon specialized in gilding ornate wooden picture frames in gold, so that the city's newly minted wealthy class could show off their paintings.
He also specialized in giant gold gilded mirrors for San Francisco's rowdy saloons, where constant bar brawls gave him a great source of repeat business.
Gustave Gump
Gustave Gump arrived in San Francisco in 1864.
He married Fannie Hoffman and worked as a clerk in the clothing business.
In 1871, Gustave joined his brother Solomon in the family store, which they renamed S & G Gump: Mirrors, Mouldings, and Paintings.
The Gump brothers' store now offered elaborate gold accent pieces for the wealthy homeowners in Nob Hill and Van Ness Avenue to show off their extravagances.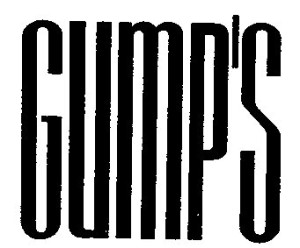 Later, the Gump brothers started the first art gallery in San Francisco.  They brought paintings from Europe to fill their gilded frames, which they sold to fill the homes of wealthy San Franciscans.
During the 1880's, Solomon and Gustave Gump traveled between Europe and San Francisco, bringing ever larger assortments of object d'art for their clients.
The now famous Gump's store began its life at 535 Clay Street.
In 1872, the store was moved to 119 Sansome Street. In 1876, it was relocated to Market Street and, in 1892, to Geary Street.
The store has been at 250 Post Street since the early twentieth century.
Lafayette Gump purchased the entire half block of Post Street after the 1906 Earthquake-Fire.
Fraternal
Both Solomon and Gustave Gump were members of the Masons and the Ancient Order of United Workers.
Community
Solomon Gump and his family were members of Congregation Emanu-El, the oldest synagogue west of the Mississippi. They attended services on special occasions, though they were not observant.
Family
Solomon Gump married Louisa Livingston (b. 1843) in 1860. He brought her and their three children to San Francisco once his business was established.
They had eight children in total: Henrietta, Isabella, Lafayette, Alfred S., Sigmund, Abraham Livingston (A. L), Goldina, and William Edgar.
Goldina Gump married the head of the San Francisco Stock Exchange.
Abraham Livingston Gump (aka A.L.), the fourth son, learned about art and taste from visits to wealthy people's homes with his father.
Solomon Gump died in San Francisco, California in 1908.
Gustave Gump died in San Francisco in 1898.
A. L. Gump
A. L. Gump was born in 1869 in San Francisco.
In 1880, at the age of eleven, A. L. began to lose his eyesight. Despite this, he became one of the great art buyers of America.
After the 1906 San Francisco Earthquake-Fire, A. L. needed to raise funds to rebuild the destroyed store. Luckily, Dodie Valencia, a wealthy art collector, offered A. L. $17,000 for one of his paintings.
Gump's was rebuilt in 1906 at 250 Post Street. The architect was Clinton Day.
Once the store was rebuilt, A. L. added new merchandise offerings. Having a fondness for Chinese art since childhood, he began selling more categories of Asian art and furnishings at the store — being the first to offer rare and valuable jade artifacts.
Family
A. L. Gump married Mabel Beatrice Lichtenstein in 1902.
Mabel was a successful stage actress who spoke four languages. Against A.L.'s protests, she continued to build her career on the stage, often traveling with their daughter, Marcella.
A.L. and Mabel Gump had three children: Richard, Robert, and Marcella.
Richard Gump took over the store's management after his father's death.
Mabel Gump and her son, Robert, traveled to the Far East in 1922.  When a revolution broke out in China, they quickly journeyed to Japan. Mabel returned to San Francisco with the haori coats that became fashionable in the 1920's.
Civic
A.L. Gump donated two Gobelin tapestries to the San Francisco War Memorial Opera House.  The tapestries were previously owned by Archduke Franz Ferdinand.
A .L. Gump died in 1947.
Richard Benjamin Gump
Richard Gump was born in 1906 in San Francisco.
Among his many jobs, Richard Gump worked as an artist on the Walt Disney production of Bambi, as a designer for Metro Goldwyn Mayer, and as a designer of the store's flatware, jewelry, and linens.
He was also an artist who painted, composed music, and wrote two books: Jade: Stone of the Heaven and Good Taste Costs No More, published in 1951.
Richard led Gump's interior design department toward higher standards. He personally taught staff members art appreciation, promoted California artists, and was especially devoted to sharing taste and style, often saying: "You can't afford an ugly thing at any price."
The Gump's store motto became, "Good taste costs no more."
Richard Gump remained president of Gump's until his retirement in 1975, staying on even after he had sold the business in 1969.
Civic
In 1949, Richard Gump helped found the Guckenheimer Sour Kraut Band, a group of amateur musicians and businessmen that played humorous polka music. They performed at the opening night party at the San Francisco Opera. Gump was the band's conductor and also played clarinet.
In 1981, Richard Gump donated the family property on Mo'orea Island in the South Pacific to the University of California, Berkeley for the Richard B. Gump South Pacific Research Station, an ecological and biological research center.
Family
Richard Gump married four times to: (1) Frances Bromberg, (2) Hela Lenya, (3) Libby Danysh, and (4) Agnes Mirie Fraser.
He had one son, Peter, with his first wife, Frances.
Richard Gump died in 1989 in Paris.
Robert Gump
Robert Gump was born in 1903 in San Francisco,.
Robert Gump married Frances Widney in 1926. They had two daughters: Suzanne and Marilyn.
In 1937, Robert and Frances divorced. Robert then married Catherine Todd, left Gump's, and had one daughter, Antoinette.
Some years later, after a brief marriage to Sally Stanford, the celebrated madam for the League of Nations and later Mayor of Sausalito, Robert Gump retired to Southern California and Mexico to spend his life writing.
He authored Chinese Rugs: A Monograph and You are the Rose, You are the Rock, which became a cult favorite in the 1960's.
Robert Gump died in 1981.
Marcella Gump
Marcella Gump was a decorated World War II nurse.
As commander of her medical unit, she landed at Malta with the Army.
She was married three times, to Jules ____ (City of Paris Department Store heir), Llewellen Phillips, whose father was a member of British peerage and mother was a member of the royal family of Tahiti, and Lynn Curley, a San Francisco talk show host.
Postscript
Gump's eventually had branches in Hawaii, Los Angeles, and Carmel.
These were eventually sold to settle federal and/or state estate taxes.
Large retail stores required heavy cash availability. Estate taxes in the twentieth century took much of that away, so many multi-generational Jewish department stores were sold before the current generation passed away – paying only the lower capital gains tax rather than the much higher estate tax.
Sources
Janet Lynn Roseman, et al., Gump's Since 1861: A San Francisco Legend (San Francisco: Chronicle Books, 1991).
The Bay of San Francisco: The Metropolis of the Pacific Coast and its Suburban Cities, a History (Chicago: Lewis Publishing Company, 1892).
Interviews with R.B. Gump at UC Berkeley Bancroft Library
Life Magazine, May 7th, 1951
Samantha Silver is curator of this Gump Family Exhibit, with important help from Antoinette Amorteguy of the Gump family.
==================================
Jews in the Jews
    — About this time — 
Kosher Meat in San Francisco — 1851
To the Israelites of San Francisco — Notice is hereby given that we, the undersigned, have made an arrangement with the butcher Mr. Joseph Begin, 76 Kearny Street, between Commercial and Sacramento, who will supply the Israelites of this place with the finest quality of Kosher beef, veal and mutton, which will be killed in the presence of Mr. Blankenstein and others by a competent and qualified Shochet, according to the Mosaic laws.
  A. Weiss      I. S. Lincoln      M. S. Blankenstein      I. Solomon
  T. Frankel      Barnett Keesing      J. Raphael & Co.      Philip Mann
— Daily Alta California, San Francisco, April 10, 1851 [WSJHQ 4/3]. Most of the individuals who signed this notice became prominent members of Congregation Sherith Israel, the pioneer synagogue of the Polish and English Jews of San Francisco.
==================================
Multi-Generational Jewish Department Stores of the West
Neiman-Marcus of Dallas, Texas
Hamburger's Department Store of Los Angeles, California
Gump's of San Francisco, California
Meier & Frank of Portland, Oregon
Auerbach's of Salt Lake City, Utah
Goldwater's of Phoenix, Arizona