The Hebrew Sheltering Society – 1908
The Hebrew Sheltering Society had its actual beginning, in 1908, when Isidore Shepard joined with Victor Harris, editor of the B'nai B'rith Messenger to put out the call for a hachosas orchim– a home for poor Jewish newcomers while they looked for employment.
By 1910, the Hebrew Sheltering Society was a functioning, incorporated entity.
The Association had 25 temporary clients, both homeless and aged.
Missing Records
"Great institutions are often so caught up in their growth as they fulfill vital community needs that they find little time to preserve the documents and the drama of their origins.
"A case in point is that the pioneering Hebrew Sheltering Association of Los Angeles, which has been joined by other institutions into becoming one of the outstanding agencies providing services for patriarchs and matriarchs of its community.
"It has adopted 1912 as its time of formation.
However, its roots lie deeper."
–Norton Stern & William M. Kramer,
Western States Jewish History Vol.18 #2, 1986.
Early Growth
In either 1914 or 1916, the Association had raised enough money to purchase the Glass family house in Boyle Heights.
In 1915, the Society became known as The Hebrew Sheltering and Home of Aged Association.
The Home, in Boyle Heights, grew to 350 residents.
However the shifting Jewish population required a move westward into the San Fernando Valley.
San Fernando Valley
In Reseda, there was already the Industrial Center for the Aged which was converted to the California Home for the Aged, and was eventually changed again to Menorah Village.
In 1976, the Boyle Heights facility was moved to the "Valley" – a short distance away from the California Home.
Shortly thereafter the two facilities merged becoming The Jewish Home for the Aging of Greater Los Angeles.
Today the name has been simplified to the Los Angeles Jewish Home, which is comprised of Grancell Village and Eisenberg Village, the two Reseda sites.
The Los Angeles Jewish Home now includes a Special Care Center for Alzheimer's patients, a modern Medical Center and a new facility, Fountainview, for independent senior living.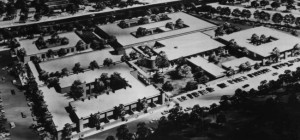 Famous movie star, Mary Pickford, was a lifelong supporter of the Jewish Homes.
Although not Jewish herself, she often mentioned that it was the Jewish movie producers that gave her both her fame and fortune.
Hence her support for this very special Jewish organization.
For more information see Western States Jewish History,
Early History of the Jewish Homes for the Aging of Greater Los Angeles, by Norton B. Stern & William M. Kramer, Vol. 18, #2